In The Man Plan (The Grayson's #2) by Tracy Anne Warren, Ivy has always loved James, even when he was engaged to her older sister. That engagement didn't work out, and Ivy has sworn that one day James will think of her as more than just the little sister.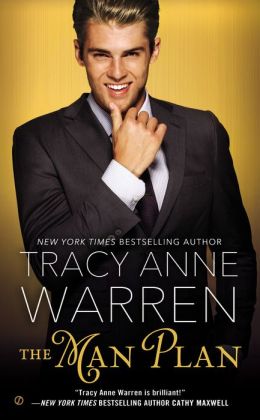 Sixteen years older than Ivy, James assumed Ivy would outgrow her crush on him. When her parents ask him to look out for her when she drops out of college to move to New York, pursuing her dream of being an artist, James does what he can to help and arranges her to have an apartment in his secure building. Dropping in to say hello, James is stunned at the changes in Ivy. She's no longer a little girl, she's a gorgeous woman. However, she is still much younger, and the sister of his former fiancee, so she is definitely off limits. Ivy is still in love with James though, and has a plan – a Man Plan. She is determined to make James see the woman she is and how great they can be together.
As Ivy almost obsessively carries out her plan, James is torn. He is very attracted to her, but still feels the two of them together would be so wrong. As they spend more and more time together, can James ignore his growing feelings towards Ivy and keep things platonic? Do they have a chance together or will the age difference, differences in life experience and social expectations drive them apart?
There are a lot of factors in The Man Plan that work against Ivy and James hooking up, and Tracy explores these well. The big gap in their ages and the fact that James has been with Ivy's sister are the main conflicts that not only do Ivy and James have to get around, so does the reader. This creates a lot of stress in the relationship as Ivy continues to push towards being much more than friends with James, and the way each of them handles this reflects on the maturity levels of the character.
Ivy is a strong character but is pretty immature…she's very single minded in her pursuit of James and isn't above having a tantrum when everything does not go as she wants. She also has been taken care of her whole life by wealthy parents, even now she is not working or bringing any money in. She lacks life experience that many her age have, and I found her very difficult to feel a connection with. In the last part of The Man Plan I did see a lot of character growth in Ivy, and most of this comes about only after she has strong words with James. James fights his attraction to Ivy, but he is a mass of contradictions. James tries to do what he thinks is the right thing. He says doesn't want to be with her, but his actions often say something quite different. Ivy's relentless pursuit of him does have him opening his eyes to an older Ivy than he knew, but to get to this stage she's had to work really hard…is it worth it?
There are quite a few secondary characters in The Man Plan that add entertainment and intrigue to the plot, and I like how Tracy brought them in and made them part of Ivy and James' life.
I found myself more interested in Ivy and how/if she would advance her art career than the relationship she was the sole pursuer of for a long time. This type of relationship and all the dynamics of family just didn't light a spark for me.
Tracy's writing is smooth and well paced, and even if I didn't care too much for the general plot The Man Plan was an entertaining read. The Man Plan is the second book in Tracy's Grayson series, but can very easily be read as a stand alone.
I'd recommend The Man Plan to romance readers who don't mind a bit of the unbelievable on the road to romance.
Book Info:

Published August 5th 2014 by Signet | (The Grayson's #2)
From the New York Times bestselling author of The Last Man on Earth comes a delicious new novel about a young woman's dreams of finding grand romance and success in the big city—and her schemes to make both come true…
What's a girl to do when the man she's loved her entire life thinks of her as a little sister? Worse, her own big sister was the one who broke his heart years earlier. For Ivy Grayson, the chance to get him to see her in a different light comes when she receives an unexpected invitation to move into his luxury New York apartment building. Manhattan also just happens to be the perfect place to pursue her wish to become a successful artist. But how many dreams can one woman expect to come true?
Billionaire financier James Jordon has everything a man could want—except love. When Ivy's family asks him to keep an eye on their "little girl" in the big city, he agrees. But the innocent girl he knew is now a dynamic woman who knows what she wants, and how to get it. He may have promised himself to keep things platonic, but ignoring the game of love isn't an option. Especially when Ivy is so eager to play.