In The Bull Rider's Keeper by Lynn Cahoon, Jesse Sullivan loves the rodeo life and is not afraid of any bulls nor any man. There is one thing he is afraid of though, to try and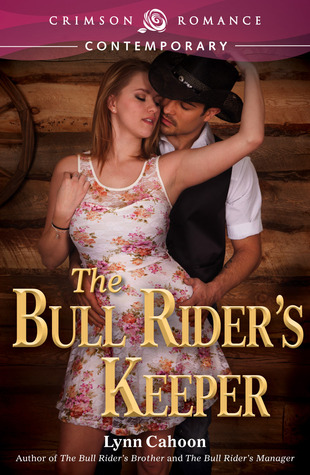 fail at something outside of the rodeo. But when his art teacher gives him the opportunity to buy the Main Street Gallery, he jumps at the chance.
Taylor DeMarco has two goals to meet within a year, to get the gallery in a stable financial ground so she can prove to her parents that she can carry on with her grandfather's legacy, and to finally move out and into her own condo. Only when her mother informs her that they have decided to sell the gallery, she cannot help feeling betrayed. Good thing that the sale is not final yet, and she will do everything she can to prevent it. But her mother had her reasons for selling the gallery, if only Taylor will stop and listen.
The sparks between Taylor and Jesse flew from the moment they met, and it was not at the gallery. Taylor agreed to model for her mother's art class, and Jesse walk in on her changing to prepare for class. From that moment forward things got a little complicated and heated between them.
At first Taylor thought he was just a regular cowboy without money taking art classes, then learning he was buying the gallery didn't sweeten her towards him at all, especially since she believes that he doesn't know anything about art. At least the important stuff needed to own a gallery.
Yet the more time that Jesse and Taylor spend together the harder it is for them to keep their hands from each other. Jesse wants to get closer to Taylor, but with the gallery on the line, how can he convince her to give him a chance?
If you have read the Bull Rider series, from the previous two books you know that Jesse has not always been the more responsible or reliable guy. But this time in order go get what he wants he will have to prove himself to the most important person in his life.
For a quick read full of rodeo, art and intense chemistry, don't miss The Bull Rider's Keeper by Lynn Cahoon.
Book Info:

April 28th 2014 by Crimson Romance
Jesse Sullivan isn't afraid of any thing, any man, or any bull. But when he decides to take a chance and carve out a life outside his rodeo career, he feels like he's walking on shaky ground. In typical Jesse style, he jumps at a chance to purchase Main Street Gallery, a Boise tradition in the art world.
Taylor DeMarco has two goals for the next year. Getting the gallery on sound financial ground to prove to her parents that she can keep her grandfather's legacy alive is the first one. Moving out of the house and into her own condo by the Boise River is the second. When she finds her folks are selling the gallery to Jesse, she vows to stop the sale, no holds barred.
When sparks fly between Jesse and Taylor, family gets in the way of reason, and they have to decide what is more important, their desires or keeping Main Street Gallery open and successful.