Burn by Jenny Lyn: Hot Irish beauty Tate Reilly has worked very hard to become an Emergency Room Physician. She enjoys her work and the challenges she faces on a daily basis. After completing her residency in Florida, she was lucky enough to return to her college hometown of Atlanta to practice medicine. As much as Tate loves living in Atlanta, it is sometimes painful because the love of her life, Ryan Hart, disappeared on her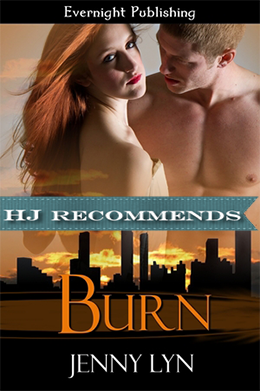 eight years ago while she was sleeping. To this day, Tate has no idea why he left, why he left so secretly, why he didn't call or reach out to her in anyway. He broke her heart and she has spent years attempting to get over him and the tremendous hurt that he caused. She was able to pour her grief into schooling and doctoring, which slightly diffused her heartbreak. Tate dated others from time to time, but no one come close to Ryan and his love.
Sexy Ryan Hart is back in Atlanta, working as a sous chef in one of the hottest restaurants in town. In addition to being a successful chef, he wants Tate back in his life. He will never forgive himself for leaving her like he did, but out of control family matters caused him to leave Atlanta in a hurry, without even a goodbye to Tate. Ryan never stopped loving Tate and now that he is back in Atlanta, he plans on doing whatever he has to do to earn her trust back. Ending up in Tate's ER, is just the beginning. Ryan is one of those men that never forgets any details, so he showers Tate with flowers, delicious food and doodads in order to win back her heart. However, only the truth will set him free and break down the barriers Tate has implanted around her heart.
The heat between Tate and Ryan is scorching, with each touch, caress and kiss sending them both into a world of pleasure. Once Ryan feels comfortable enough to explain his disappearance to Tate, they will have an everlasting future together.
Wow, this is an amazing novella. Ms. Lyn is able to pack a lot of punch into less than a hundred pages. The story flows effortlessly from one chapter into another with a graceful writing style. I loved the way the two main characters came together by being patient with each other and handling their situations with maturity. This is the second book I have read by Ms. Lyn and she has become one of my favorite authors.
If you are looking for a passionate romance with steam, emotion and some fun, look no further than Burn.
Book Info:

Published August 28th 2013 by Evernight Publishing
Eight years ago, life was good for Tate Reilly. Living in Atlanta and attending college, her dream of becoming a doctor was within reach, and she was in love with Ryan Hart. Then one night while Tate slept, Ryan disappeared. No note, no phone call, nothing left of a love she thought would last forever. Confused and heartbroken, she doesn't let it hold her back in her quest to become a physician. If anything, the hurt and disappointment only serve to fuel her drive to succeed.
Ryan never wanted to leave Tate behind the way he did, but sometimes life takes away the choice. The best way to spare Tate the disruption of her bright future with his problems is to make a clean break. So he does the hardest thing he's ever done—he walks away from her.
Now Ryan is back in Atlanta, working as a sous chef in the most popular restaurant in the city, and he has every intention of winning Tate back, no matter what it takes. It's not easy because Tate wants answers that Ryan's not ready to give just yet. First, he needs to remind her of what they once had together. The heat between them is undeniable, and it's not long before it melts her resistance and she starts to lose the grip on her heart again.
But until Ryan can come clean with Tate about why he left, she can't fully forgive him and move on. Time doesn't always heal all wounds. Sometimes you have to shed more blood to become whole again.