In BROCK (7 Brides for 7 Blackthornes #5) by Roxanne St. Claire, Brock Blackthorne is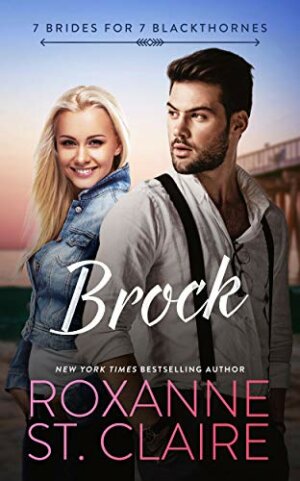 the brand manager for his family's whisky business and he makes darn sure he is on top of everything that could potentially threaten the name of Blackthorne Enterprises. When writer Jenna Gillespie is thrown headlong into Brock's life, first in a downpour on the streets of Boston, and later when she reveals her plans to write a book filled with his family's history and supposed secrets, he's not sure if his attraction to her can overcome his trepidation. But the more Brock gets to know the author, the more he falls for beautiful, down-to-earth Jenna. And that might just pose a problem when some shocking family history comes to light.
He shrugged. "The truth is, I believe right down to my last strand of DNA that this rumor is fake… Let's find out the truth and put that hundred-year-old gossip to bed once and for all."
Jenna has one final chance to prove herself worthy of the book deal she was granted. And what better way to show her publisher–and her uber famous parents, both of whom are journalists–than a tell-all book about one of the most well-known families today: the Blackthornes. When Jenna is paired up with good-looking Brock and has a feeling he's going to keep her on a short leash so he can control the narrative, she doesn't change her goal of finding out the unknown parts of the whisky family's history. A trip to King Harbor, Maine, is where it all gets complicated. While Jenna's research starts to pay off, her attraction to Brock has her coming undone. There's no way she can fail in this project. So her heart will just have to sit on the back burner until she can take time to figure out her personal life.
'If she succeeded in uncovering the truth and the recipe was stolen, she could kiss Brock Blackthorne goodbye…which was probably a better option than kissing Brock Blackthorne for fun.'
The oh so satisfying fifth book in a seven book multi-author series, Brock had all of the heat and heart I expect from Roxanne St. Claire's fantabulous writing–along with even a touch of family mystery to make it all the more interesting.
'Something was very wrong in Blackthorne Land, and if she could figure out what it was, there was no way she'd lose this book deal.'
I had a ridiculous amount of fun reading Brock. Which, by the way, can be read as a standalone *or* as part of this 7 Brides for 7 Blackthornes series. And what a list of authors we have who each contributed a book to it! They are: Barbara Freethy, Julia London, Lynn Raye Harris, Cristin Harber, Samantha Chase, and Christie Ridgeway, in addition to Rocki's story. What a line up, right? I think what I love most about these multi-author series is that the author's voice gives each couple their own unique perspective and a whole different feel to their part of the overall story arc. In this case, there was a common thread to hold the series together where everything was based around the Blackthorne brothers and cousins and the family whisky business.
As a New England gal, I was pretty happy that this was set in Maine and Boston primarily. There was a fair amount of local flavor added to Brock and Jenna's smexy story, beginning with their meet-cute during a downpour with a not-so-great cab ride in Boston. I adored their instant chemistry. It was intense but realistic…and even though there was a wee bit of a miscommunication between our couple at first, it became a cute, teasing game between Jenna and Brock. The tension between them was done so well by Rocki. Especially when it came to Brock trusting that Jenna had his and his family's best interest at heart with her supposed tell-all book she was researching. They definitely went through the wringer together while they uncovered family secrets and found themselves in a few binds that did ultimately bring them closer together. *sigh*
Brock is sure to be a hit with romance fans who crave characters with chemistry galore and a plot that just doesn't quit until you hit that final page. I seriously wanted to turn around and read this all over again, it was that enjoyable. Definitely recommended.
Book Info:

Publication: Published August 29th 2019 | by South Street Publishing | 7 Brides for 7 Blackthornes #5
Meet the Blackthorne men, who are as hot, fast, and smooth as the whisky that built the family fortune, and the yachts and race cars that bear their name. From proud Scottish stock, Blackthornes never lose. But, one by one, the seven sexy men in this family are about to risk everything when they fall for strong and beautiful women who test their mettle in life…and love.
Brock – Book Five
With proud Blackthorne blood in his veins, Brock Blackthorne loves his job the keeper of the "brand." His job is to protect the family name, to keep the company's reputation as clean as possible, and ensure that skeletons stay well-hidden at the family compound in King Harbor, Maine. So when an ambitious and inquisitive biographer is tasked to pen a revealing "tell all" book about the Blackthornes, Brock decides to personally guide the beautiful writer far away from any family landmines. But the more time he spends sharing the history and heart of his unusual clan, the more he wants this captivating woman in his arms…and in his life.
The daughter of renowned investigative journalists, Jenna Gillespie's job, reputation, and advance money is on the line if she doesn't unearth something scintillating and surprising about this dynasty built on whisky. Unfortunately, the maddeningly sexy Brock Blackthorne is doing everything he can to make sure that doesn't happen. But when she uncovers a lead about the family's multi-million dollar whisky recipe having been stolen, Brock decides to help her, certain they will finally remove a cloud that hangs over the family name.
As Jenna and Brock get closer to the truth, they also get closer to each other. And when the real story is finally revealed, one of them will have to sacrifice all they think they hold dear if they have any chance for a lifetime of love.