In Broken With You (Stark Security #2) by J. Kenner, Denise "Denny" Marshall Walker has always been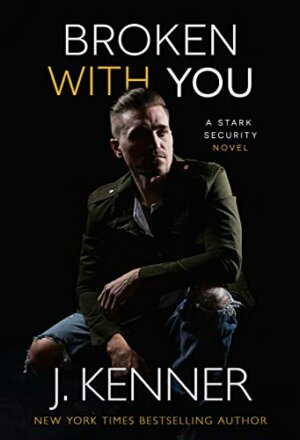 able to remain focused while on her often-dangerous assignments as a soldier, which now comes in handy working for Stark Security. But lately her thoughts are drifting more and more to her husband Mason, who has been deep undercover for two years. After fearing for his safety for so long, Denny is thrilled when she gets the call that's he's alive. But she's also told that he has amnesia–and that she must proceed carefully so he doesn't harm his mind or lose the intel hidden in his mind that could save millions of lives. Things get further complicated when Denny finds out she's pregnant. Considering she can't tell Mason they're married, let alone that he's going to be a father, she will do whatever necessary to help him regain his memory, remember the intel, and hopefully remain safe during the process.
As if he's reading my mind, Quince says, "How are you coping?"
I shrug. "I disarmed a nuclear weapon once. Did you know that?"
He shakes his head.
"That was easier."
Although he can't remember it, Mason knows that he endured years undercover as well as torture and who knows what else to get the information currently hiding somewhere in his head. And he'll be damned if he'll give up trying to recover it. Even if it might break him mentally. The only reason Mason is following orders to take it slow is so there might be a chance to not only remember the intel but also to figure out why he's so drawn to Denny. And why he's so protective of her. Working alongside her on a case is familiar, as is the easy back and forth they have whenever they're together. Mason can see himself falling for Denny, although it's obviously a complicated situation. Especially so when they come under direct fire from an unknown entity bent on destroying them. And there's no way Mason will let everything he's worked for, or for Denny, to come to harm.
"I get to fall in love with my wife all over again. And how many men get to say that?"
With enough emotion to rip out your heart and the right amount of sexiness and intrigue to ramp up the excitement, Broken With You has to be one of my favorite J. Kenner novels to date.
'He's back now–not whole, not yet–but he's *here*.
And my deepest, darkest fear is that he's going to disappear all over again. Losing him once almost killed me. Twice will do me in.'
It's difficult to know where to begin with this book, there was so much going on–and so many things I can't mention for fear of giving away important plot points. But boy was J. Kenner in the zone here. Broken With You can be read as a standalone even though it's book two of this spinoff in the Stark Universe, but I would highly recommend reading the super short prequel Shadows of You (which is currently free on most digital platforms!). It's basically just a couple of scenes with our heroine, leading up to the events of this book. I really think it sets the tone as well as gives important insight into Denny and Mason's relationship. *sigh*
What a complex situation Denny found herself in when Mason reappeared–with amnesia!–about two years after he started an undercover mission. Heartbreaking, touching, bittersweet. You name it. Denny went through every emotion imaginable and the detailed way Kenner wrote this, I think readers will go through it all themselves right along with our heroine. I sure did. I loved seeing Denny's strength: as a woman and as a highly trained soldier, too. It kind of pulled her in two directions. She wanted to blurt out their past together to Mason to force him to remember her and them as a couple, but then she knew as an operative that doing so could harm her husband, as well as he could forget the highly important intel he was carrying around in his head. Talk about heartbreaking and frustrating.
The connection Mason and Denny had? Whew. It was nothing short of electric and so very sweet and tender. The book began with Mason's POV after he had already lost his memory, but we got a true sense of who he was as a man and a soldier. What a smart, honorable guy he was! Something Mason proved over and over as his and Denny's situation played out. I won't spoil how it all got sorted in the end for them, because of course it does–it's a J. Kenner book, so you know there's at least a HFN. But they had a romantic, perfectly fitting end to that horrific chapter in their lives, thankfully.
Readers will certainly be wowed by the chain of events and dirty dealings in Broken With You, the latest explosive novel in J. Kenner's Stark Security series. I can't recommend this awesome romance highly enough.
Book Info:

Publication: Published June 18th 2019 | Martini & Olive | Stark Security #2
True love never fades…
After surviving a troubled childhood, Denise can't believe that she's blissfully married to her partner and soulmate. She's confident that not even Mason's long-term, deep-cover assignment will shake their bond. And she certainly doesn't anticipate that when he finally walks back through her door that he'll have no memory of her, himself, or their time together…
When Mason is pulled out of an operation gone bad, all he knows is what he's told — that he was a covert agent, that he has information vital to national security somewhere in his head, and that they can tell him no more for fear of burying those hard-fought secrets even further. They tell him nothing else; not even that the beautiful woman who makes his heart beat faster is not just his partner, but also his wife.
The secret she must keep wrecks Denise, who wants only to return to Mason's arms. But despite the desire that still burns hot between them, she can't tell him who she is—or that she's carrying his child.
But when dark forces threaten both their lives in order to retrieve the information trapped in Mason's mind, it's not their past that will be tested, but the tenuous new love now burning hot between them.