In The Secrets We Bury (The Undertaker's Daughter #1) by Debra Webb, Doctor Rowan Dupont is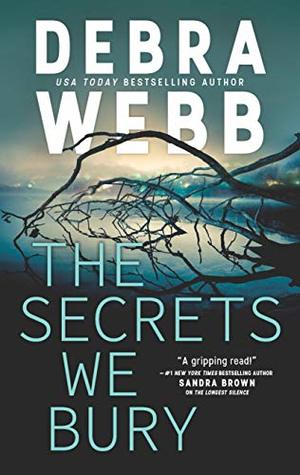 back in her hometown of Winchester, Tennessee to take over the family funeral home after the death of her father. Hoping for a quiet place to relax and lick her wounds, Rowan finds she can't let go of the past, especially her sister's death. But as she gets closer to what really happened to her twin all those years ago, she finds herself in the sights of a killer that will do anything to keep their secrets. Will Rowan be able to uncover the truth about the past or will she find herself in a killer's crosshairs?
"Where are your vast powers of analysis leading you at this point, considering his call to me and the message left on my mother's mirror?"
"To some finale with you," Dressler said bluntly. "We believe you are the answer to finding him." Finally, someone who agreed with her.
"I don't like the sound of that, Agent Dressler," Billy argued.
"Dr. Dupont is familiar with the tactic," he assured Billy, which would not make him feel the slightest bit better. "She has served on numerous joint task forces in the past."
"Playing a role on a task force and putting herself in the crosshairs of a killer as bait are two very different things."
What a thrilling, heart-pounding, intense ride Ms. Webb takes readers on in this first book of her new series where the heroine has been through so much after having her heart crushed by someone she thought she could completely trust. How could someone she know deceive her so thoroughly, especially considering her profession? Will she be ever be able to trust in her observations as a psychiatrist again?
The way this story started drew me in immediately, as being back in Winchester brings back a lot of painful memories for the heroine and she's determined to finally discover the answers to why her twin sister died all those years ago. Are her present troubles related to the past? Will she uncover something more sinister is going on in Winchester than just what happened in the past? Moreover, the dialogue was compelling and intense due to the heroine's back story. She's been through a lot recently with losing her father, which has taken a huge toll on her and she doesn't know who she can trust except her childhood friend, Billy, and a couple of people she went to school with that have been through similar things as she has in the past.
Billy watched the coroner's movements. "So we can't rule out the idea that she fell in the tub."
Rowan shrugged. "I can't rule out that possibility, no, but I can tell you that if she did, someone moved her onto the floor or someplace where she lay flat on her back for the next half-dozen hours or so."
"Or she managed to get up after the initial fall and then fell onto her back on the floor," he countered with a dubious look in her direction. He was reaching for any sort of explanation that didn't include murder. "But then she wouldn't have been able to climb back into the tub six or so hours after her heart stopped beating." He blew out a disgusted breath.
With the heroine, she's resilient, courageous, independent and determined to prove she's tough enough to face the battles she's facing. Since there's someone determined to mess with her because of things that she uncovers are going on at the funeral home and someone else determined to mess with her to do with things that happened in the past that she finally starts to find the answers to. Who killed her sister? Will she be their next target? Are they obsessed with her that they're determined to try and break her? I also liked the close friendship she shares with Billy, who I'm hoping she'll take a chance on in future books of this series. Really, he's so protective of her, but is willing to give her the space she needs to deal with everything because Rowan needs to put the past to rest. Since she'll never be able to give forever a chance otherwise because she holds so much guilt and grief inside. Is being home in Winchester and taking over the family funeral home penance for everything that has happened in the past?
Overall, Ms. Webb has delivered an exciting, fast-paced, suspense-filled read in this book where the ending had me on the edge-of-my-seat because of the danger Rowan faces but left me quite surprised also by the discovery the heroine makes as to one of the people involved in the crimes being investigated. Furthermore, the ending of this story has me looking forward to more of this series, as the past is definitely going to come back to haunt Rowan. I would recommend The Secrets We Bury by Debra Webb, if you enjoy romantic suspense, mystery/thriller novels or books by authors Sharon Sala, Heather Graham, Courtney Evan Tate and Karen Robards.
Book Info:

Publication: April 30th, 2019 | Harlequin MIRA | The Undertaker's Daughter #1
Nothing stays buried forever…
Doctor Rowan Dupont knows death. She grew up surrounded by it in her family's Victorian funeral home, and it's haunted her since the day her twin sister drowned years ago. Between her mother's subsequent suicide and the recent murder of her father, coming home to run the funeral home feels fitting—even if it leaves her vulnerable to an obsessive serial killer.
Rowan refuses to let fear keep her from honoring her family. But the more time she spends back in Winchester, Tennessee, the more she finds herself questioning what really happened that fateful summer. Had her sister's death truly been an accident? And what pushed their mother to take her own life? The dark lake surrounding Rowan's hometown holds as many secrets as the bodies that float in its chilling depths. But Rowan is running out of time if she's going to uncover the truth before somebody sinks her for good.