The Perfect Catch by Joanne Rock is a heartwarming and enjoyable baseball themed country romance.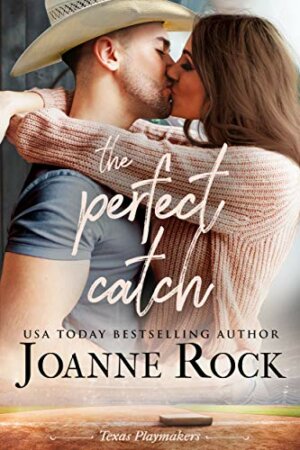 Calvin Ramsey is returning home, though not particularly happy about it. He's been cut by his baseball team and for a family like his, with a father renowned in the baseball world and two brothers still actively playing, it's a kick in the teeth to be without a contract and uncertain about his future. Holing up in his mother Hailey's farmhouse while she's off on a missionary trip should give him some peace and quiet to sort things out. The last thing he expects is to find the house already occupied!
Josie Vance has made herself a temporary home in Last Stand, Texas. As Hailey's hired caretaker including resident beekeeper, she's happy living day to day and enjoying the great outdoors. Though not specifically hired to do so, she also surreptitiously keeps an eye on Everett Ramsey, Hailey's ex-father in law, recently home from the hospital. Her reasons for leaving Florida are complicated. Betrayed by all the people she'd trusted, she'd run away and taken her last stand in, well, Last Stand.
Calvin's appearance on Josie's doorstep is a complication she doesn't need. And the attraction that pulsates between them doubly so. While Calvin is trying to rehabilitate his career, in close proximity to a beautiful woman it's easy to slide into a convenient affair with an expected end date. Calvin can't afford any scandal to put off team prospects and Josie's afraid to tell him about her past. Is there a way for them to get a happy ending, one that will see them end up together?
This is a lovely rural story, an easy read with a gentle romance. Calvin is understandably feeling downtrodden when he shows up at his mother's house, and not having her there is a letdown too, especially with a strange woman on the doorstep. His mother had left a note for him should he show up, that he should go stay with his grandfather down the road. Calvin is ashamed to discover that his grandfather had been hospitalized and he hadn't known, too involved in his career to keep in touch well with his family. Being back in Last Stand forces him to see that's he's neglected his relationship with his grandfather and this is a chance to make things right.
Josie is a smart, courageous young woman who has been dealt one too many blows to her self esteem. She'd worked for her mother, a building supervisor, as a young woman because she had no choice, assisting her mother's tenants with repairs out of her own pockets and with her own skills, knowing her mother wouldn't pay for any fixes. Trying to find a way out, she'd trusted a conman who'd stolen her savings and when her mother had discovered that Josie had planned to leave, she'd threatened to have her arrested for illegal contracting. Josie doesn't know whether her mother actually followed through in calling the police but she hadn't waited around long enough to find out. The stress of worrying about her past starts to wear on her as she and Calvin develop a relationship, especially as his chances of getting back into the big leagues improve and the press start to take note of him again.
Their romance is a slow burn one that leads to some sensual love scenes. But their attraction won't be enough to sustain them, or to build the trust needed for a long term relationship. Eventually Josie's secrets come out and the fallout will determine where they go next. Calvin's father also is a thorn in Calvin's side that he has to deal with. Calvin makes some questionable choices, but eventually he and Josie find a way to get their well deserved happy ending. Calvin's brothers are introduced in this story and I'm looking forward to reading more about them as the series continues!

Book Info:

Publication: May 9, 2019 | Tule Publishing | Texas Playmakers #1
He didn't think coming home would mean falling in love
Outfielder Calvin Ramsey returns to his Texas farm home after being released from his team, an unexpected surprise sure to tarnish the family baseball legacy. But when he finds a sexy stranger acting as the temporary caretaker for his childhood home, all thoughts of baseball disappear.
She won't fall for another player
After losing her savings to a swindler ex-boyfriend, Josie Vance moves to Last Stand to start fresh where no one knows her unhappy past or the con that bankrupted her. But her peaceful healing time evaporates when the homeowner's son arrives and throws himself into life on the farm—and charming Josie. She can't risk an affair that draws attention to her or her past. Especially not when the public's fascination with the baseball-playing Ramsey clan is at an all-time high. Can she keep her secrets, her low profile, and her heart too?