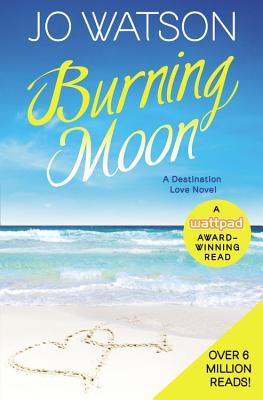 Burning Moon by Jo Watson takes a woman whose life is completely planned out and throws some unexpected surprises her way.
Lilly Swanson is supposed to be getting married to her perfect fiancé but he bails on the wedding ten minutes before she's supposed to walk down the aisle. Lilly is devastated, depressed, and can't seem to wrap her head around what happened. For the very first time, Lilly is all alone. In an unexpected move, Lilly decides to keep her honeymoon plans and fly to Thailand by herself and go through with her honeymoon…alone.
Lilly and Damien meet on the plane to Thailand and hilarity follows. This is one trip that will go down in the record books. Damien is backpacking from place to place and finds Lilly silly but also vulnerable. There is something about her that calls her to him and when he finds out her story, he tries to shake her up. Damien is all about risks and making the journey and Lilly couldn't be more opposite. When Damien and Lilly get to know each other better, he leads her on the adventure of her life, which might include her being set on fire, going to a strip club, and getting to experience the Burning Moon.
"It was all so clear now. Everything had happened exactly the way it was supposed to. Coincidence. Synchronicity. Call it what you like. But this whole time when I'd been cursing Karma for causing my life to fall apart, it was actually coming together. I just didn't' know it…until now."
Damien shows Lilly that her life is just beginning and it's hers for the taking.
My first thoughts of Lilly are that she's a snob. She sees Damien and immediately refers to him as a drug addict or a goth drummer and decides to make assumptions based on his clothing and the reasons why he's backpacking. Jokes on her when she finds out Damien comes from money and isn't at all what she thought. She also jumps to conclusions at an incredible rate, but I also feel sorry for her. Having her whole life planned out, only for her to get the rug pulled out from under her couldn't have been easy. As for Damien, I loved that he gave Lilly a chance. He obviously saw something in her, something deep down that Lilly had to find for herself, in order to take back her life. I really enjoyed his perspective on life and how he didn't give up on her.
Overall, this book is witty, enjoyable and unique. If you're looking for a fun and romantic read, this is for you!
Book Info:

 August 2nd, 2016 | Forever | Destination Love #1
Lily Swanson has been planning her perfect life since she was twelve years old: Meet Mr. Right, have the big white wedding, buy a house in the 'burbs and raise 2.5 picture-perfect kids. However, when her fiancé bails, leaving Lily alone at the altar to face 500 gossipy guests, her dream turns into a nightmare. But then Lily makes an impulsive decision—she ditches the dress, grabs her passport, and heads off to Thailand to spend her honeymoon alone.
Or so she thinks…
Because Lilly quickly learns that everything in Thailand is very hot-the weather, the merchandise, and especially Damien—the sexy, spontaneous man she meets before her feet even hit the sand. Now with no plan, and nothing holding her back, Lily lets Damien lead her on a wild, unpredictable ride to the world's most exclusive party, Burning Moon. But after a week of letting go, indulging her every impulse and desire, Lily must go back to the girl she used to be. Or can Damien convince her that their party doesn't have to end?