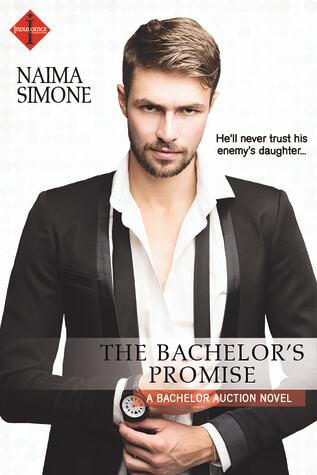 In The Bachelor's Promise (Bachelor Auction #3) by Naima Simone, it's been years since Aiden Kent and Noelle Rana have seen each other. He hasn't forgotten the hurt her family caused him, yet she's a woman hard to ignore. When she asks him to honor the promise he made to his mother regarding her, the questions is, will he be able to do it?
His eyes narrowed, a muscle ticking along his clenched jaw. "Are you trying to piss me off, Noelle?" Slowly, he nodded. "You must be. Or else you wouldn't keep throwing reminders in my face every time you open your mouth."
"As if I need to mention what you think about my family," she murmured. "Thieving, no-good Ranas. Users. Lazy. It's no secret; you've never made it a secret about how you feel."
"Am I wrong?" he pressed. "Are you going to stand here and tell me he wasn't a thief? A user?"
Aiden Kent is the last man Noelle Rana wishes to see, but she has no choice if she wants to make a fresh start. Asking him to honor the promise he made to his mother is the hardest thing she's ever had to do, but she has to, if she wants to be able to pay her tuition for Boston University. Will she be able to convince Aiden that she's still the same Noelle he enjoyed spending time with all those years ago, or is all hope lost of the pair ever repairing their friendship in the hopes of more happening between them?
Just like the first two books of this series, The Bachelor's Promise can be read as a stand-alone. It's a captivating read, which encompasses the enemy to lovers trope; a trope that I've been reading a lot of lately. Right from the beginning, this book grabbed my undivided attention with the way Noelle is determined to get Aiden's attention. She's obsolete amongst a crowd of elegance and there's no doubt she'd be remembered by those in the room that paid her a lick of attention.
The dialogue was intense due to the main characters back stories. They have a very complicated history, and I could sympathize with Aiden in regards to the reasons why he loathes Noelle's family. Both her father and her brother are dirty, rotten scoundrels that only care about themselves. However, there were some nice light-hearted moments that illustrated the good times Aiden and Noelle had. They were quite close with his mother treating the heroine like a daughter.
She blinked and clutched her box tighter to her torso. "I feel like Julia Roberts," she said, losing a hard crack of laughter. "Well, except for the whole hooker thing."
He cocked his head to the side. "And the safety pins in your boots."
Surprise winged through her, momentarily distracting her from the pity party she'd been about to dive headfirst into. "Did you just get my Pretty Woman reference?"
Both characters were incredible, and drew me into this story with the history between them, Aiden playing the blame game for what he believes Noelle did in the past and Noelle's determination to prove she didn't do what he accused her of. Then there's the secondary characters that weren't afraid to offer their opinions because it was palpable how much Aiden and Noelle still cared about each other, despite him believing that she betrayed him long ago.
Noelle is strong, brave and I liked how determined she was to confront Aiden, even knowing that he would be rude to her. She wants to start over; be able to pursue her dreams. Dreams that are big, but there's no doubt she'll achieve them in the end. Then there's the decisions she needs to make for her future. Will she be able to give Aiden a chance knowing how much he hates her family? Will she finally do what's right for her when it comes to her own family? Will she finally pursue her dreams from the opportunity her employer gives her?
While Aiden, he's confident, hard-working and has achieved so much in his life. I could understand why he couldn't let go of his anger towards Noelle's family, because not only did her father do wrong by him, but so did her brother. However, I liked that he realized she wasn't anything like the rest of her family and would never stoop to their level of deceitfulness. Indeed, she's the complete opposite; a woman willing to do whatever it takes to have a fresh start. Aiden also had some decisions to make, and I'm glad that he made the right ones when it came to Noelle.
Overall, this was a wonderful addition to the Bachelor Auction series for Ms. Simone where the sex scenes were hot and illustrated how right Aiden and Noelle are for each other. No way could they continue to fight the strong chemistry brewing between them, especially when Aiden pushes the heroine to imagine what they'd be like together. The only thing is, she has no experience whatsoever when it comes to men.
The way this story ended was incredible, as Noelle made the right decision when it came to choosing between her family and Aiden. Her brother is a total jerk who needed what she did to happen. She couldn't keep enabling his misdeeds when he just kept repeating the same mistakes over and over again, believing that she'd be there to help him. I would recommend The Bachelor's Promise, if you enjoy the enemy to lovers trope. I would also recommend the first two books of this series, because they're definitely worth reading.
Book Info:

August 29th, 2016 | Entangled Publishing | Bachelor Auction #3
Aiden Kent never expected to see Noelle Rana again. He's determined to keep his distance from the beautiful enigma wrapped in denim and leather. He can't trust anyone with the last name Rana. But he made a promise to his dying mother, and it isn't long before Noelle invades his personal space. He can't stop thinking about the exotic beauty's alluring curves.
He wants the daughter of his enemy, and he's determined to have her…if only for one night.If Noelle wants to move forward with her life, she must make a deal with the devastatingly gorgeous, broody millionaire Aiden. He made a promise years ago, and she's come to collect—even if it means facing down the only man who ever broke her heart. And there's a really good chance he'll do it again.