In Burnout (NYPD Blue & Gold #1) by Tee O'Fallon, forced to go on the run after learning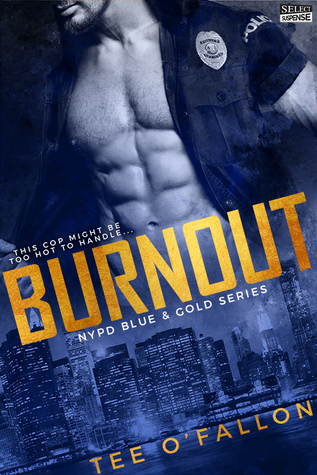 of the hit out on her, NYPD detective Cassie Yates flees the city with no destination in mind. That is until she arrives in Hopewell Springs, and is offered the sort of job she wished she had, instead, of having followed in the footsteps of other members of her family and joined the police force. Knowing she needs to be extra-vigilant to stay one step ahead of the assassin coming for her, Cassie shouldn't be thinking of getting close to the town's police chief. Yet, she finds it harder and harder to fight her feelings.
"Not very forthcoming, are you?"
"A girl's entitled to have some secrets, isn't she?" Her lips twitched.
"Depends on the secrets," he shot back.
She leaned in close. "Didn't your mamma tell you secrets are a woman's prerogative?"
Hopewell Springs police chief Mike Flannery has never considered getting into another relationship, not after his last one ended in disaster. But the new woman in town has certainly caught his interest, even though he knows she's hiding something by her constant need to watch her surroundings. However, when Mike learns the truth of what she's hiding, can he find it in his heart to forgive, or will he allow his past to interfere with his second chance at love?
When it comes to romantic suspense, I expect an author to be able to keep me guessing as to the person responsible, for the trouble the main characters are trying to solve, or stay ahead of as is the case for the heroine in this story. So, of course, Ms. O'Fallon has penned an incredibly captivating, fast-paced read because she's managed to do what I believe makes a really good romantic suspense.
The dialogue was intense due to the main characters back stories and everything the assassin does that Cassie is hiding from. Immediately, I was drawn into this story from Cassie's point-of-view, as I wanted to discover whether the undercover operation she was ready to bust would go off without a hitch and if she'd get her wish of leaving the NYPD. Yet, it was the moment she arrived in Hopewell Springs and met Mike that made the pages fly by. They had such a strong connection, and their playful banter, which I enjoy every moment of, increased that connection until finally spilling over onto the pages in scorching sex scenes.
"Don't cops carve a notch on their belts every time they bust someone?"
He laughed. "Who told you that?"
"I think I read it in Cosmopolitan. No…" she paused, pretending to be deep in thought, "…maybe it was Vanity Fair. It was an article about men who equate their professional exploits with the size of their manhood and sexual stamina."
Mike grinned. "You worried since I don't have a hundred notches on my belt I won't" – he lowered his gaze to his crotch, then raised his eyes back to hers – "measure up?"
The main characters were riveting, and I liked how they interacted with the secondary characters. Cassie is an outsider, and yet, it seems Hopewell Springs is a place she belongs. The secondary characters welcome her without asking too many questions, and that's what she needs. At least until trouble arrives and puts those she's come to care for in danger. Yet, it was the tight friendship she had with her partner on the force that I liked the most in her interactions with the secondary characters. The way they joke around definitely helped to take the pressure off what they faced day-to-day on the job.
Cassie is strong, courageous and very protective of those that can't protect themselves. Indeed, that's what I liked most about her because she was willing to jump in to save someone and put her own life in danger, even if there were repercussions to her actions when it came to Mike. How could she put herself in danger when there was no guarantee that things would work out in her favor? While Mike, he's kind, caring, smart, perceptive, and extremely protective of the people he's sworn to serve and protect. He honors the role of his job, even if the people of Hopewell Springs come to him with the most lackluster of situations that they believe he needs to do something about. He's also sworn he'd never get involved with someone like Cassie; someone that's hiding something. Because that's what went so wrong with his last relationship, and made him move to Hopewell Springs to escape the horrible situation the woman he was seeing caused for him. Yet, he can't deny the attraction that exists between him and Cassie, no matter how hard he tries. Besides, the circumstances for her keeping her identity a secret was a lot more forgiving than that, of the woman that betrayed him.
Overall, Ms. O'Fallon has penned an incredible novel that had me hanging on every word until the end, and most especially until the person after Cassie was revealed, which took me completely by surprise. Really, I was so not expecting who it turned out to be. The epilogue wrapped this story up nicely, as Cassie finally accomplished her dream professionally and personally. It was good that she could still surprise the hero. I would recommend Burnout, if you enjoy romantic suspense, or heroines that are hiding a secret and manage to turn the hero's world upside down, for the better.
Book Info:

Publication: June 13th, 2016 | Entangled Publishing | NYPD Blue & Gold #1
Sexy-as-sin Police Chief Mike Flannery knows the new arrival to Hopewell Springs is trouble. She has a smoking-hot body and a quick wit…and he'll be damned if that's not a turn-on. But this former NYPD cop and small-town heartthrob has been burned before, and there's no way he'll let that happen again.
New York City Detective Cassie Yates is on the run. A six-month undercover sting in a sleazy bar seemed like a textbook arrest—but now there's a hit out on her. Armed with fake ID, her K-9 companion, and a police-issued SUV, she flees to a quiet upstate town where she trades her badge and gun for a spatula, finally finding peace in the dream she tossed aside to follow her family into law enforcement.
There's no denying the fire and ice between them. But as the hired assassin closes in, Mike's past comes roaring back and secrets are revealed in an explosion destined to tear them apart—if not destroy them.