In Butterfly in Frost by Sylvia Day, Dr. Teagan Ransom left New York City behind for a slower-paced existence in Washington state, along the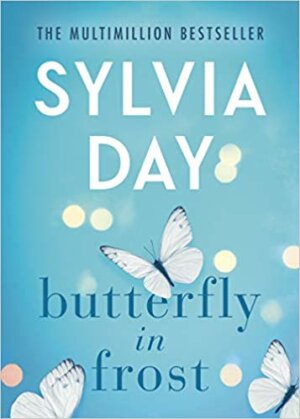 beautiful Puget Sound. Her home has become a balm on her tattered, broken heart and is a place where she can begin to mend her life. Maybe even find a way to start over. Teagan has made some lovely new friends out of her neighbors Roxy and Mike. And it's on a walk one fateful day with Roxy when she ends up on a collision course with the man who will change her future in a huge way: artist Garrett Frost. Her new neighbor.
'And his face…that work of art. I see the cracks in the beauty, as if his perfect mask has slipped, revealing something unguarded and agonized and even more beautiful beneath.'
Teagan's attraction to Garrett is instantaneous and unparalleled. Something she's not sure she's emotionally ready to deal with at this point in her life. But he's persistent, she has to give him that much. As Teagan begins to realize that Garrett is also working through his own sorrow over something in his past, she feels a pull to him, knowing that they are creating a bond that can help them both overcome their problems. That is, if they can open up to one another and let themselves be that vulnerable.
'And just like that, the sadness dissipates. That's his magic. It awes me to think I might wield that same power over him.'
Butterfly in Frost packed quite an emotional punch for being a novella. With its surprise ending, along with our shattered hero and heroine who found solace in their shared attraction, Sylvia Day proved yet again there's an excellent reason why fans are smitten with her distinct writing voice.
"You're broken. I'm broken. We don't throw the pieces away. We fit them together until they make something new."
When I think of a Sylvia Day romance, it's all about passionate connections, emotionally-damaged characters, believable dramatics, and a sophisticated but still relatable setting. Butterfly in Frost gave readers that and a whole lot more. I was quickly carried away by Garrett and Teagan's heartbreaking story so much that I was sad we didn't have a full-length novel for them. Especially after that plot twist at the end! Holy. Cow. It made me want to go back and read it again from the beginning to see what I missed and what I didn't completely piece together. I still have some questions, but I think Day left things a bit open to interpretation where this was a shorter format–and with the way it ended, I was satisfied overall.
Just like with the Crossfire series (which this has ties to…shhhhh, don't tell anyone!!) our hero and heroine were very dynamic characters, fully fleshed out and seemingly real. Teagan and Garrett were carrying around a huge amount of grief and anxiety as well as being depressed after trauma in their pasts. It was heartrending stuff. But it made me like Garrett and Teagan more for trudging through, day after day, trying to do their best and having some times when they faltered. I thought they were both truly good people. And it thankfully wasn't all dreariness. Garrett was the king of corny one-liners, who loved making Teagan laugh. That playfulness was the perfect balance to their emotional struggles. And the chemistry between them? It was oh so wonderfully done by Day.
Loss, heartbreak, healing, and a sense of coming home, Butterfly in Frost was the perfect post-Crossfire romance for readers to get their Sylvia Day fix and to fall in love with two new unforgettable characters.

Book Info:

Publication: August 27th 2019 | Montlake Romance |
From #1 New York Times bestselling phenomenon Sylvia Day comes a hotly anticipated and passionate new love story.
Once, I would never have imagined myself here. But I'm settled now. In a place I love, in a home I renovated, spending time with new friends I adore, and working a job that fulfills me. I am reconciling the past and laying the groundwork for the future.
Then Garrett Frost moves in next door.
He's obstinate and too bold, a raging force of nature that disrupts the careful order of my life. I recognize the ghosts that haunt him, the torment driving him. Garrett would be risky in any form, but wounded, he's far more dangerous. I fear I'm too fragile for the storm raging inside him, too delicate to withstand the pain that buffets him. But he's too determined…and too tempting.
And sometimes hope soars above even the iciest desolation.
Emotional and heartrending, Butterfly in Frost marks a brilliant return by global sensation Sylvia Day, the #1 international multimillion bestselling author of the Crossfire saga.