In The Sheikh's Shock Child by Susan Stephens, Millie wants answers in regards to what happened to her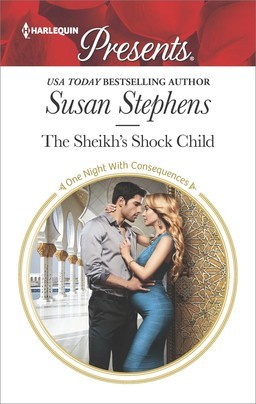 mother all those years ago and she won't be satisfied until she gets them. However, getting answers from Sheikh Khalid, the only man that has them proves difficult. Will Millie be able to find a way to get what she wants or will she walk away from the one man that could make her happy forever?
"It must have been hard for you to return to the Sapphire."
"Ghosts?" she suggested with a level look.
"Memories," he countered.
"Life goes on" she said flatly.
"As it must," he agreed.
This was quite an interesting read because of the heroine's determination to get answers to what happened to her mother years ago when the woman died. Will she be able to find a way to get the hero to open up to her about what happened? However, it was from the moment the hero and heroine come face-to-face for the first time where things really come alive for this story, as the hero was once her savior, but ended up being another person she was disappointed by. Why couldn't he find a way to help her with what she wanted all those years ago?
As for the dialogue, it was intense due to the main characters back stories, the way these two are linked by tragedy, and yet, I loved how this couple grew close again. However, in saying that, I thought the hero was a little too arrogant and deserved how much of a challenge the heroine provided him. No way would she give up on getting answers when what happened has haunted her for so long because she didn't know the truth of what happened to her mother.
Moreover, the heroine was resilient, courageous and I liked what she did in order to meet with the Sheikh that protected her once when she was younger. I also liked her kind and caring nature and that she was loyal to the woman that gave her such a good life after the death of her mother. No way could she turn her back on the woman that was like a second mother to her; a second mother who was better than her birth one since the heroine didn't have to be the adult in the relationship like she did with her own mother.
While the hero, he's confident, a good leader and I could understand why he's determined to keep the truth from the heroine because he cares about her and doesn't want her to be hurt anymore than she's already been. However, in saying that, I thought the way he goes about things was a little manipulative. How could he jerk her around when all she wanted was answers; answers he could give her, even if what he knows might not be what she wants to hear? Really, who is he trying to protect — the heroine or family secrets? Yet, what I liked best about the hero was his determination to do what's right for his country, which is proven by what he does to prove to the heroine that she's the one he wants forever.
"I suppose your score card's off the scale," she commented spikily on the back of this thought.
His face softened into laughter. "I'm not so bad." He paused a moment, and then admitted wryly, "I'm worse."
"And shameless." But there was no venom in her comment, only a growing fondness, which was dangerous, she had no doubt the Sheikh was as shrewd in his dealings with women as he was in every other area of his life. "So, what is your score?" she pressed, bracing herself for the answer.
"Sheikh undefeated," he said.
Overall, Ms. Stephens has delivered a good read with this book where the chemistry between this couple is evident from the moment they come-to-face and gets stronger the more time they spend together; the romance was delightful and had me loving how determined the hero was to take care of the heroine because she's so inexperienced; and the ending had me loving the hero's determination to do what's right for him and his country. Certainly, laws are made to be changed, especially when it leads to something so good as to being with the one you love. Millie is the woman the hero wants and nothing is going to stand in the way of them being together. Moreover, the epilogue wrapped this story up nicely, as readers discover how far the hero and heroine have come in their relationship. Certainly, they've been blessed in love and life. I would recommend The Sheikh's Shock Child by Susan Stephens, if you enjoy the enemy to lovers trope, the surprise pregnancy trope or books by authors Jane Porter, Cathy Williams, Lynne Graham and Tara Pammi.

Book Info:

Publication: June 1st, 2018 | Harlequin Presents | One Night with Consequences #42
One passionate night…
One shocking consequence!
Working aboard Sheikh Khalid's luxury yacht, innocent laundress Millie hides in the shadows—until she succumbs to his touch. Overwhelmed by the intensity of their encounter, she doesn't even realize his yacht has set sail—and soon she finds herself between his golden sheets! But becoming Khalid's mistress isn't the only consequence of their reckless desire…and Millie's scandalous news will bind them, permanently!