Canyon Crime Scene by Carol Ericson finds Cade Larson turning to LAPD fingerprint expert Lori Del Valle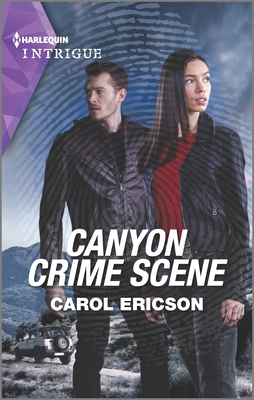 to help track down his missing sister. Lori couldn't let him, or his sister, down despite their past. When other women start going missing in the same way his sister did, the pair believe it can't be a coincidence. Lori goes behind the backs of the LAPD detectives and starts investigating the missing women herself. What Lori and Cade discovers leads down a twisted trail. They know they have to get to the bottom of the before any more women disappear, even if it means Lori putting herself in danger.
This is a romantic suspense, but I felt the romance was lacking. By the end of the book, I didn't really care if Cade and Lori ended up together. It felt like they were more friends than romantic partners. That aside, I thought the suspense and the mystery of the story was really well-written. The twists and turns along the way kept me wondering what was going to happen, keeping my attention throughout the book. It was so well written that I didn't mind that I wasn't crazy about the romance part of it.
While I liked Cade, I had mixed feelings about Lori. She definitely oversteps the boundaries of her job, having no problem doing so. She also, at times, recklessly puts herself in danger. I found myself shaking my head a couple of times at what she was doing and was honestly surprised she still had a job at the end of the story.
Canyon Crime Scene has well-written suspense and an interesting storyline that will keep readers engaged. It is also about second chances and forgiveness. I'm looking forward to seeing what comes next in the series.
Book Info:

Publication: June 28, 2022 | Harlequin Intrigue | The Lost Girls #1
Cade Larson needs LAPD fingerprint expert Lori Del Valle to help track down his troubled missing sister. But he can't deny the sparks still between them…nor the secret Lori is keeping. When fingerprints link Cade's sister to another missing woman—and a potentially nefarious treatment center—Lori volunteers to go undercover. Will their dangerous plan bring a predator to justice or tragically end their reunion?