Dreaming of Flight by Catherine Ryan Hyde: In a very new world meets old, our hero Stewie steals the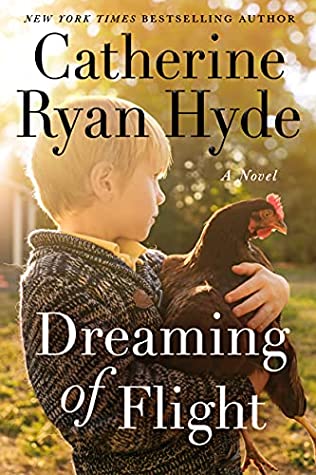 hearts of those who believed age and weariness had robbed them of feeling. Namely, 'Marilyn' aka Jean who believed she no longer had the capacity to love and who allows Stewie to step through the doors of her heart on his daily egg run. Devoted to his deliveries, Stewie travels his neighbourhood to deliver the freshest eggs possible, laid by hens who he loves and nurtures as he promised his Gran he would following her death. And before long, despite her failing memory, Marilyn finds herself adopting Stewie, helping him to read while he protects her from the land of forgetting. Swathed with decency, manners, and civility, Dreaming of Flight will simultaneously fill you with warmth and comfort as Stewie comes to terms with his significant traumas and possibly finds a way to fill his own sensitive heart.
As Stacey, Stewie's older sister works shift to keep a roof over their heads and dinner on the table she identifies that she needs to better meet Stewie's needs seeing as though he doesn't appear to be moving on after their Gran passed and indeed adopting other aged women on the street. Having lost both parents as an infant, Gran was the only mother Stewie knew and whilst Stacey has managed to keep the wheels churning, she acknowledges her little brother is cut from a different mould; empathic, literal and largely oblivious to mechanics of the world. As the relationship with Marilyn deepens, Stacey's concerns for Stewie grows, the only real solution being to take care of his mental health and assist him in grieving the things he doesn't know how to grieve.
From start to finish, this was a truly beautiful read, punctuated with a type of innocence and wonderment that bordered on sublime. Throughout, Stewie's learnings, were transferable to all, bestowing some insightful take-aways that can apply to anyone at any stage of life. Mostly though, the themes of love and abandonment were the bookends that glued this together and as Stewie's inherent grace and goodness flourishes, any reader will come away satisfied and smiling. I highly recommend.

Book Info:

Publication: 3rd May 2022 | Lake Union Publishing |
Never knowing his parents, eleven-year-old Stewie Little and his brother have been raised on a farm by their older sister. Stewie steadfastly tends the chickens left by his beloved late grandmother. And every day Stewie goes door to door selling fresh eggs from his wagon—a routine with a surprise just around the corner. It's his new customer, Marilyn. She's prickly and guarded, yet comfortably familiar—she reminds the grieving Stewie so much of the grandmother he misses more than he can express.
Marilyn has a reason for keeping her distance: a secret no one knows about. Her survival tactic is to draw a line between herself and other people—one that Stewie is determined to cross. As their visits become more frequent, a complicated but deeply rooted relationship grows. That's when Stewie discovers how much more there is to Marilyn, to her past, and to challenges that become more pressing each day. But whatever difficult times lie ahead, Stewie learns that although he can't fix everything for Marilyn or himself, at least he's no longer alone.