Captivated by Her Innocence by Kim Lawrence is an a great read with the focus more on the emotional side. The synopsis of the book, pretty much summarizes the story, so I won't describe the whole story. The hero, Cesare basically has a misunderstanding about the heroine, Anna and is forced to put up with her when his sister employs her as a nanny and teacher  to her daughter,while she has to go away on a modelling assignment.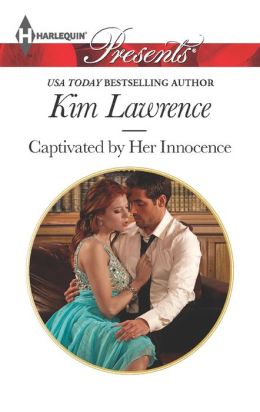 The story was predictable but not boring and it had really good moments. Anna was strong and matched the hero in every sense. Cesare was someone you could love easily because he had all the hero like qualities. There was a good amount of tension between the characters, along with a few stolen kisses. It was a smooth read and had the appropriate amount of conflict. The only flaw was that the story lost its momentum sometimes in the halfway.
"If you fail to live up to her expectations you will regret it."
For several moments Anna remained too shocked by her own thought processes to respond.
"Is that a threat, Mr. Urquart?" she finally asked quietly.
Cesare's dark eyebrows rose upward. "It is a fact, Miss Henderson," he responded without missing a beat.
Anna's chin lifted, her blue eyes narrowed at the corners, darkening with purpose as she met his stare. Head-on excitement was not a sane response to the warning, yet it was there in the shiver that slid like a silken finger down her spine
Overall, it is a good read and if you prefer more romance than the steamy stuff then you will enjoy this book.
Book Info

Publication Date: August 20, 2013 | Series: Harlequin Presents (Book 3174)
Lessons in passion…
Anna is moments away from securing her dream teaching job and a new life until it's all ripped away. And there's only one man to blame.
Former racing driver Cesare Urquart believes Anna Henderson is the woman who nearly ended his best friend's marriage. He's never forgotten her lithe figure and flowing red hair.
But when Anna arrives at his sprawling Scottish estate under his sister's employment, Cesare gets a rush of adrenaline he hasn't felt for years. Soon he questions every notion he's had about her. For beneath Anna's feistiness is an irresistible innocence Cesare can't leave unexplored….