Caribbean Nights with the Tycoon by Andrea Bolter: Luna Price has spent a year at her family's ranch to deal with some personal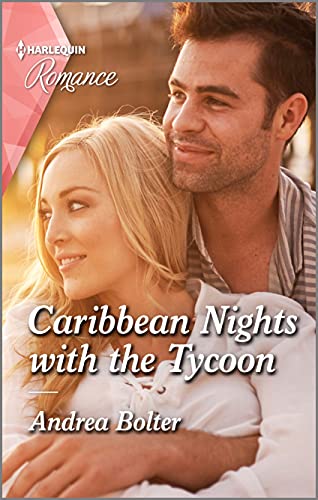 issues, leaving the lights of Hollywood behind, right in the middle of a filming. Her bestie decides she needs to get back into having some fun. Her BFF arranges a week in a private area of Puerto Rico through the M dating agency. Luna wants to be able to go back to Los Angeles after the week with no strings attached.
Charlie Matthews is a reclusive British billionaire. He has a thriving business, AMgen, but his trusted friend and colleague has told him investors are losing faith in the company because Charlie is not present for many important events and meetings. Charlie has been grieving for ten years after an accident killed his beloved wife and baby daughter. He is being nudged to get away to a tropical week, so he can move on with his life. Charlie doesn't know what to expect from this getaway pulled together by the M dating agency.
When Luna and Charlie arrive at their private resort building, they find it even more luxurious and perfect than expected. The food and activities are all there for their choosing and pleasure. The only concern is there is only one bedroom with a large bed. Will the two stay on a new friends only basis?
First of all, it seems lovely that the hero is named Charlie and not something pretentious. Of course, he started young with very little and worked hard. It's very sad that he is still grieving after ten years from his tragic loss, but there really no timetable for dealing with such horrific things. It's an important step that at least he can be nudged into getting away from his lonely mansion. He comes off as a very caring person.
Luna has all she has ever dreamed up, but fame usually comes at a high price. The reader can see why she descended into such a rough place physically and emotionally Not only is she always on display, but she can't trust men who only want something from her and not a true relationship. Even though Charlie is not very forthcoming at first, it's hard not to be attracted to his good looks and physique.
The author slowly builds the story between the hero and heroine at just the right pace. The things that haunt them are slowly revealed, just as would happen as you get to know someone.
The exotic setting had me longing to go to a quiet beach away from the usual crowds and noise. Don't know that I would be brave enough for snorkeling or paddle boarding, but swimming in a pool and ocean sounds wonderful. The food all sounds delicious and would surely be fun to try. It is wonderful to know such special places such as Old San Juan exists with all the color and music. Too often, those of us on the mainland only see Puerto Rico after disasters such as hurricanes.
I didn't know that Caribbean Nights with the Tycoon was part of a series until I went to write this review. It's a perfect tale on its own. Pick up this charming novel as an escape as well as a way to learn about important issues.
Book Info:

Publication: August 24, 2021 | Harlequin Romance | Billion-Dollar Matches #3
Seven nights in paradise…
…isn't enough!
Actress Luna has spent a year away from the spotlight. So her best friend has convinced her it's time for some fun and has organized—via the exclusive M dating agency!—a trip to Puerto Rico… Luna has agreed, so long as her date isn't looking for happily-ever-after! But she isn't prepared for her explosive attraction to buttoned-up tycoon Charlie or the resulting realization that she now doesn't want to leave the Caribbean…
A Billion-Dollar Matches novel
Billion-Dollar Matches quartet
Book 1 – The Princess and the Rebel Billionaire by Sophie Pembroke
Book 2 – Surprise Reunion with His Cinderella by Rachael Stewart
Book 3 – Caribbean Nights with the Tycoon by Andrea Bolter
Book 4 – Indonesian Date with the Single Dad by Jessica Gilmore