Witch Please By Ann Aguirre: Danica Waterhouse is trying to live her best life as a witch in the Modern world running and co-owning a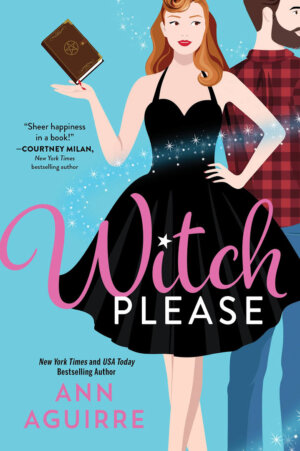 magical tech repair shop with her cousin Clementine, but this is proving to be a tiny bit harder than she had expected with her grandmother constantly trying to push the right kind of guy into Danica's life. By right kind of guy Grams means a pure blood witch, so you just imagine Danica's predicament when she finds herself developing feelings for the local baker Titus Winnaker, a total mundane! What started out as just a rebound fling for Danica soon turns into an all consuming love affair the only issue being all her life she has been told that falling for a mundane will cause her lose her magic like her mother did.
Titus has always felt unlucky in love but something just clicks when local tech handylady Danica comes into his bakery to fix his wonky oven, with and instant connected it's almost as if they were created to be together. But with family drama coming at both of them from all sides will these two be able to find their way to a magical happily ever after or are they doomed before they can even truly start?
When I first read the blurb of Witch Please I was completely sold on the idea of this cute little magical romcom. Filled with promise of being a mash up of Practical Magic meets Charmed I could not wait to jump into Danica and Titus's story, things started of so well but quickly went down hill. There where a number of issues throughout the novel but I still couldn't help but want to continue reading!
I absolutely loved Danica, not only was she trying to find a balance between being her own person but also still trying to please her family. I really liked that she and Clementine were so close and that even when they were at odds they still had each other's back. What really sold me on this book was the 'book club' which was the cover for their weekly coven meetings, gosh did I love these ladies! I loved that they were such an interesting mix of women that all gelled so well together.
Now on to one of the major issues Grams, initially I was fully team Grams but this changed once we learn that she had been lying to both girls for their entire lives and lead them to believe that their mothers have lost their magic because they choose to marry mundanes. Now this wasn't the real issue for me, it was that the entire thing never got resolved! Also I found it a but odd that Danica never asked her mother anything all these years. Now on to the next issues for me our hero Titus, as much as I love a cinnamon roll hero this just fell flat here. He just seemed super needy and kind of pathetic, like buck up buddy! Also there was no mention of his bisexuality at all. The next issue for me was the introduction of the witch hunter, now this had so much of promise but once again we are left hanging, the story arc is incomplete.
Overall as much as I loved reading Witch Please there were a number of short falls which held back this book from being a 5 star read. In saying this I'm still eager to read the next book in this series, I need to know what happens with Grams and Clementine and the witch hunter! If you like a bit of magical sparkle in your romance then this is definitely worth checking out!
Book Info:

Publication: September 7th 2021 | Sourcebooks Casablanca | Fix-It Witches #1
Practical Magic meets Gilmore Girls in this adorable witchy rom-com with:
• A bisexual virgin baker with a curse
• A witch looking to avoid romantic entanglements
• And a chemistry between them that causes literal sparks
Danica Waterhouse is a fully modern witch—daughter, granddaughter, cousin, and co-owner of the Fix-It Witches, a magical tech repair shop. After a messy breakup that included way too much family "feedback," Danica made a pact with her cousin: they'll keep their hearts protected and have fun, without involving any of the overly opinionated Waterhouse matriarchs. Danica is more than a little exhausted navigating a long-standing family feud where Gram thinks the only good mundane is a dead one and Danica's mother weaves floral crowns for anyone who crosses her path.
Three blocks down from the Fix-It Witches, Titus Winnaker, owner of Sugar Daddy's bakery, has family trouble of his own. After a tragic loss, all he's got left is his sister, the bakery, and a lifetime of terrible luck in love. Sure, business is sweet, but he can't seem to shake the romantic curse that's left him past thirty and still a virgin. He's decided he's doomed to be forever alone.
Until he meets Danica Waterhouse. The sparks are instant, their attraction irresistible. For him, she's the one. To her, he's a firebomb thrown in the middle of a family war. Can a modern witch find love with an old-fashioned mundane who refuses to settle for anything less than forever?