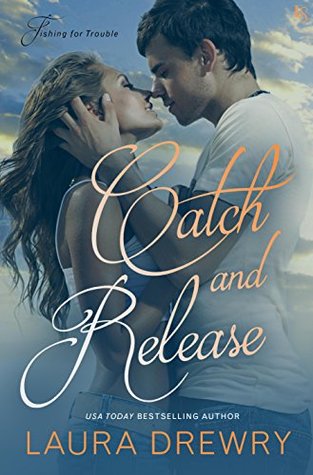 Catch and Release by Laura Drewry: Ronan is happy to back living with his brothers. As the oldest brother, he stepped in and took over when everything fell apart. Between his parent's marriage and his own divorce, he doesn't trust women or happily ever after. He reluctantly agreed to the new reality show that will focus on their family fishing lodge, the Buoys, and the fishing tours they provide to guests. Having his life on a TV show doesn't appeal and he doesn't trust the network or crew.
Hope is thrilled for this opportunity to produce Hooked. While the location isn't ideal, she can't wait to get started and prove to the O'Donnell family that they were right to put their trust and lives in her hands. She's been on her own for quite some time and frequently travels for her job, so she's excited to see how this family works over the upcoming months.
This TV show could mean a lot for everyone involved. This could be the ticket to bigger things for Hope's career and help complete the restoration and comeback of the Buoys. But Ronan could stand in the way of it all with his gruff demeanor and barely tolerant attitude. It doesn't help that he makes Hope nervous, which in turn triggers her tendency to spout off random facts.
"You've still got more things rattling around waiting to come out, don't you?"
"Nooo," she said, drawing out the word a little too long.
"Liar."
Of course she did, but she'd already succeeded in making herself look like a big-enough idiot; she sure as hell didn't need to prove it any further.
The last thing Ronan wants is to be attracted to the charming, resourceful, and determined Hope. But she's always around and she seems to understand him. They can't help but feel the sparks of an inconvenient attraction that only seems to get stronger as they get to know each other.
"Flash cards?" she bellowed. "Are you freakin' kidding me right now?"
Ronan's smile turned into something more like a grimace as he shrugged. "This chick once told me it was a legit way to communicate."
"Yeah, well, she was stupid."
Catch and Release is a slow burn romance as the last of the remaining puzzle pieces of the O'Donnell family are revealed. Laura Drewry brought tension, anticipation, angst, sexy, heartwarming, and romance together in a book I didn't want to put down. Ms. Drewry continued to showcase the strong relationships amongst the characters. Catch and Release can be read as a standalone, but would be more enjoyable if the series is read in order. Fans of Katie Graykowski and Jenna Sutton will enjoy Catch and Release.
Book Info:

 Expected publication: February 28th 2017 | Loveswept | Fishing for Trouble #3
The irresistible O'Donnell brothers return in a charming novel from the bestselling author of Off the Hook ("The perfect balance of sweet, sexy, and wonderfully romantic."—Lauren Layne).
Hope Seaver is an up-and-coming TV producer tackling the hardest gig of her career: a reality show set at the Buoys, a scenic fishing destination owned by three handsome, stubborn brothers. Liam and Finn O'Donnell are willing to tolerate her crew for the sake of the business, but Ronan would rather chew off a limb than open up on camera. Somehow Hope has to convince him of her good intentions—and stop herself from swooning every time Ronan walks into the frame.
Ronan knows that he's the reason his brothers gave up their old lives to run the Buoys, and he needs to make it worth their while. So if this out-of-towner with the kind eyes and dazzling smile wants to give them the free publicity they desperately need, Ronan can't say no. He just won't let himself get burned again by a double-dealing woman. But what if Hope's good-girl routine isn't an act? When Ronan lets his guard down long enough to catch a glimpse of the real Hope, he likes what he sees—enough to give love another shot.
Look for all of Laura Drewry's heartwarming Fishing for Trouble romances:
OFF THE HOOK | LURED IN | CATCH AND RELEASE