In Devil in Spring (The Ravenels #3) by Lisa Kleypas, Lady Pandora Ravenel is everything that a young woman should not be: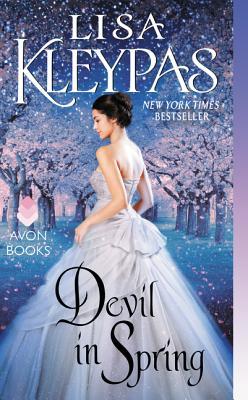 awkward, uncoordinated, has no interest in marrying, and instead is interested in starting her own business making board games. But a fateful evening spent at a Society event unexpectedly puts Pandora in a compromising position with handsome Lord St. Vincent. In the days following the incident, she's forced to decide between marrying the lord or facing the backlash her family will have to endure from the Ton. Pandora can't deny the physical pull she feels for Gabriel but will it be enough to make her give up her independence?
"Why would I be amused by the sight of a young woman posing upside-down on a piece of furniture?"
"I'm not posing. My dress is caught in the settee. And I would be much obliged if you would help me out of it."
"The dress or the settee?" the stranger asked, sounding interested.
Gabriel was instantly attracted to not only Pandora's beauty, but by her quirky charm and her quick mind as well. He knows she's not the type of woman he should seek out for a bride, considering the weight of the responsibilities he, and in turn his wife, will face in the future but he can't even see a future without her in it. So Gabriel sets out to find a way to allow Pandora the freedom she seeks as a businesswoman while showing her what joy passion can bring to her life too. And it all goes according to plan until a personal threat against his beloved has him rethinking how to keep her safe.
"You're so beautiful…so precious to me. I'm not asking for a surrender, I'm offering you one. I'll do anything. It has to be you, Pandora…only you…for the rest of my life. Marry me…say you'll marry me…"
Utterly romantic. That's what Devil in Spring was–from the gorgeous cover to the prologue, and straight through to the epilogue and everything in between. I wasn't sure how author Lisa Kleypas was going to follow up Marrying Winterborne, the stellar book two in The Ravenels series, but she did. And what an epic, memorable romance she created for us this time. *dreamy sigh*
"You dazzle me, Pandora. Every beautiful, fascinating, kinetic molecule of you. The night we met, I felt you like an electric shock. Something about you calls to the devil in me."
I fell in love with this book right from the start. The characters. The storyline. It was all absolute perfection and written with the attention to detail that I've come to expect from Kleypas' writing over the years. I was really knocked out over two things that went hand in hand: the tenderness between Pandora and Gabriel, and watching their sweet relationship grow. The way their feelings evolved seemed genuine, even though everything happened in an abbreviated time period. But given the fact that Pandora's reputation was compromised, she and Gabriel would have had to act rather quickly to avoid too much scandal, so it worked out well in this case.
Kleypas has a knack for creating incredible heroes in her romances but I personally think Gabriel is one of the best so far. He had just the right amount of confidence to make people take notice. He was charismatic and highly intelligent. But best of all, he was kind and exceedingly loyal. And I adored how playful Gabriel was with innocent Pandora. They made a wonderful pair, with her frenetic energy and inquisitive mind and his laid back sexy charm. I was a little unsure what to think of Pandora at first and thought she might end up being too immature. But she surprised me with her offbeat personality and her inherent goodness. She had me cheering her on to find a balance between becoming a successful businesswoman and making a relationship with Gabriel work.
Devil in Spring is a must read for any historical romance fan out there. I think Pandora and Gabriel will win you over and have you completely enraptured in their story, as well as sighing happily when you read the final page.
Book Info:

Publication: Published February 21st 2017 | Avon | The Ravenels #3
An eccentric wallflower…
Most debutantes dream of finding a husband. Lady Pandora Ravenel has different plans. The ambitious young beauty would much rather stay at home and plot out her new board game business than take part in the London Season. But one night at a glittering society ball, she's ensnared in a scandal with a wickedly handsome stranger.
A cynical rake…
After years of evading marital traps with ease, Gabriel, Lord St. Vincent, has finally been caught-by a rebellious girl who couldn't be less suitable. In fact, she wants nothing to do with him. But Gabriel finds the high-spirited Pandora irresistible. He'll do whatever it takes to possess her, even if their marriage of convenience turns out to be the devil's own bargain.
A perilous plot…
After succumbing to Gabriel's skilled and sensuous persuasion, Pandora agrees to become his bride. But soon she discovers that her entrepreneurial endeavors have accidentally involved her in a dangerous conspiracy—and only her husband can keep her safe. As Gabriel protects her from their unknown adversaries, they realize their devil's bargain may just turn out to be a match made in heaven…