CEO's Marriage Miracle (The Cattaneos' Christmas Miracles #3) by Sophie Pembroke: "I am doing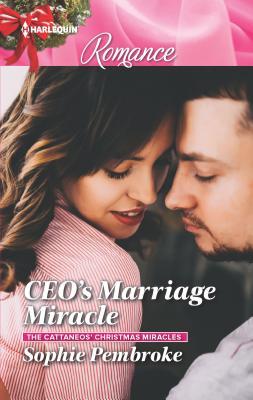 this for Frankie's sake. He should get to spend time with his father. He will enjoy this Christmas holiday. Me, not so much." These are the thoughts in the mind of Maria Cattaneo as she is about to knock on the door of the Cattaneo's chalet in Mont Coer, the chalet of her soon-to-be ex-husband Sebastian.
Maria left Sebastian nearly a year earlier when she just couldn't take it anymore. Yes, their marriage was arranged, a business deal between their two fathers, but Sebastian was never home, never spent much time with their son Frankie. It just wasn't working. Sebastian always put the family business, Cattaneo Jewels before her and Frankie.
Here it is Christmastime and the whole Cattaneo family is gathering at their chalet, their first Christmas since their parents were both killed in a helicopter crash. Maria didn't want to be here but she agreed because Sebastian really wanted her and Frankie here. Maybe they could put their marriage back together.
CEO's Marriage Miracle by Sophie Pembroke is the third book in The Cattaneo Christmas Miracles series. She joins author Scarlet Wilson (Cinderella's New York Christmas) and Jennifer Faye (Heiress's Royal Baby Bombshell) in telling the tales of the three Cattaneo siblings. Sophie Pembroke has done a splendid job in this book telling the story of a failed marriage and the attempt of two people who must overcome their pasts to start a new beginning.
This story embraces the spirit of Christmas with lots of holiday cheer even amongst the ups and downs of Maria's and Sebastian's endeavors to find happiness. Little two-year-old Frankie steals the show exhibiting the magical wonder in the joys and activities of the season to the delight of not only his parents but his aunts and uncles too. I found this book to be a super Christmas romance story.

Book Info:

Publication: December 4th 2018 (paperback) | Harlequin Romance| The Cattaneos' Christmas Miracles #3
The CEO's contract…
To save his marriage!
In this The Cattaneos' Christmas Miracles story, Sebastian's greatest mistake was watching his wife walk away with their young child. Now he has until Christmas to win Maria back. To prove his workaholic ways are behind him, Sebastian signs a new contract—complete with date-night clauses and family-time amendments! Will it be enough to get this CEO back together with his family for Christmas and forever?