Charmed by Inés Saint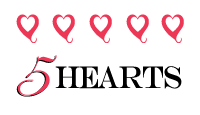 Publisher: Crimson Romance (October 1, 2012)
Book Info:
Jamie Sullivan is a fun-loving, widowed mother of twin five-year old boys. A
creative goldsmith with her own line of designer charms, she is determined to
forge her own unique brand of success. Jamie guards a painful secret that leads
her to be emphatic about not letting a man into her life.
Nick Grey is the gorgeous, charming, and daydream-inducing headmaster of the private
elementary school Jamie's children will attend. After single-handedly bringing
up his daughter while earning his doctorate and proving himself to the school's
board of directors and the community, he feels burned out. Come the end of the
semester, Nick is taking a year off to travel the world.
When they meet, an instant attraction blazes through both. Nick and Jamie soon find their hard
earned peace of mind threatened by meddling matchmakers, old rivalries, and
children who can't keep their feet out of their mouths. But Nick's not
interested in starting over and raising kids again, and Jamie's sure she can't
trust her heart. Will they be able to nurture their friendship and attraction into something that can last forever?
Sensuality Level: Behind Closed Doors
Review:
Jamie has moved back to Autumn Falls to raise her twins close to her family. After loosing her husband two years before and for reasons she will not tell just anybody, she is determined to raise her twin five year-old sons by herself and not allow any man into her life. She wants to just live in peace, take care of her kids and continue making a success of her charms.
Nick is the headmaster of the private elementary school where Jamie is going to enroll her twins. He feels burned out and tired after all his hard work to earn a PhD and bringing-up his daughter. Now that his daughter is ready for college, he plans on taking a year off to travel the world. He wants to have what he didn't get to have after finishing college because he had a child to raise.
When Jamie and Nick meet there is an instant attraction that neither will accept nor condone. And with the rivalry between Nick and Jamie's brother, how can there be anything between Jamie and Nick? But it will take a lot of courage from both to allow someone new into their lives.
With the meddling of friends, family and children these two may just find that giving love a second chance is worth everything.
Nick and Jamie's romance is slow to happen but chemistry and good old fashion meddling will bring them together even if they don't want to.
This is a charmingly sweet romance with warmth and humor that you will enjoy throughout the book. It has become one of my favorites and I hope it becomes one of yours. ☺