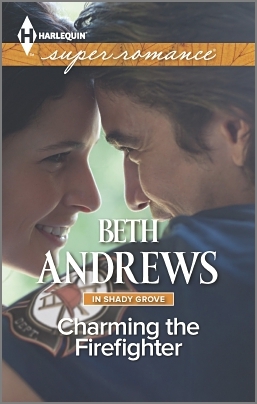 Charming the Firefighter by Beth Andrews: Penelope Denning wanted a fresh start. One where she could make her son happy, where things would go just so and she could make everything fit into the nice boxes that she had for them. After all she was a mom who had faced her son's cancer and won, a divorcé who had faced her husbands lack of emotion for her and over come, and now she was a woman embarking on a new journey in a new place. She would make this work and would make it work her way.
Leo Montesano may have had some playboy tendencies, after all he was young and he knew he was good looking. He was also a firefighter and after a partially rough call he knew he couldn't keep living like that. As much as he thought he enjoyed it, it was time to grow up. The only problem is how to make that happen.
When Penelope has a small problem with her grill and Leo shows up more than just the grill is sparking, at least for Leo. There is definitely something between the two of them, but the problem is that neither is really ready or equipped for an adult relationship. Then you throw in a teenage son, a large overwhelming family and a lot of insecurities, that's when you know you are asking for trouble. Will this fireman be able to stoke the fire? Or will he end up with nothing but smoke to hold on to?
This novel is part of Ms. Andrew's Shady Grove series, but can be read as a stand alone. The Montesano family is great to read about though and why you wouldn't pick up more of her work who knows. This is not a short read though and it's also not a burn you down novel. It is however a novel that catches your heart and wraps around it till you are so entwined that you have to see how the HEA happens. There are two major story lines in this novel and they are both heart tuggers. The interplay between a mother and her son is not to be missed then to try and throw someone else in the mix? Wow Ms. Andrew's has worked magic to make this story work out and stay interesting. I would say this is a definite pick up for a reader who is interested in a "family" style romance, with a little maturity and a lot of realistic plot.
Book Info:

December 2nd 2014 by Harlequin
Look who she attracted!
One glance at the hot firefighter who responds to a misguided 911 call and Penelope Denning knows she's out of her depth. Leo Montesano is a charmer with an exciting career. She's an accountant focused on getting her son through his teenage years. Yet Leo is definitely pursuing her. How can she possibly resist?
As the attraction between them ignites, Penelope discovers a wild side she never knew. The passion makes her think about a future beyond this affair, until her real life interrupts. And when she's convinced she must choose her son over romance, Leo does something she never expects!