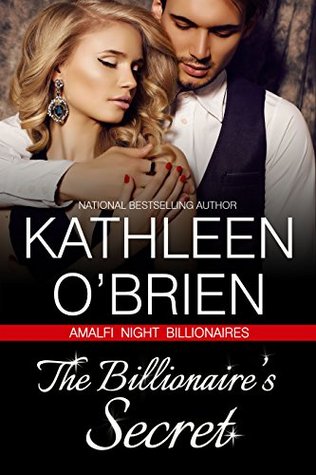 The Billionaire's Secret by Kathleen O'Brien: It's back to the Amalfi Coast with this novella from Ms. O'Brien and with this trip we get a peak into the lives of a Scot and an American along with a case of hidden and somewhat twisted identities. When a young Boston woman comes to the Coast to play the roll of a rich woman on vacation and meets a Scotsman who happens to be designing the landscape of the hotel she is staying in she doesn't have a clue who he is. When it turns out he is not just well off but rich and other secrets start to come out what will happen? Will there even be any chance when circumstances force them to run home without any notice?
The writing of this novella is incredibly smooth. It's a steady moving plot with some focused romance and not a lot of heat. Ms. O'Brien does really well with her characters and her descriptions of everything. This story is so vivid in colors and smells it feels like you are really there and can close your eyes and reach out and touch the lemon trees and see the amazingness that is the Amalfi Coast. Take some time and pick up the novella for a feel good quick read.

Book Info:

 September 13th 2015 | Tule Publishing | Amalfi Night Billionaires #4
High School art teacher Sophie Smith is usually the most honest of women. But when her dearest friend and mentor asks her to be her stand-in on a two-week vacation at an Amalfi Coast luxury resort, she won't let her down… even if it means posing as a rich, pampered socialite.
As it turns out, Sophie could get used to this, especially handsome, enigmatic gardener Declan Muldoon who's strangely more thrilling than any of the billionaires buzzing around. She ends up falling for him—hard.
Then Sophie discovers she's not the only one pretending. Declan's gardener gig is temporary. He's actually the black sheep of a very wealthy, powerful family, a man who appears to be in need of an heiress.
An heiress exactly like Sophie is pretending to be…