In Chase  (Hot Rides #3) by Sidney Bristol, Gabriel Ortiz left the FBI when a case he worked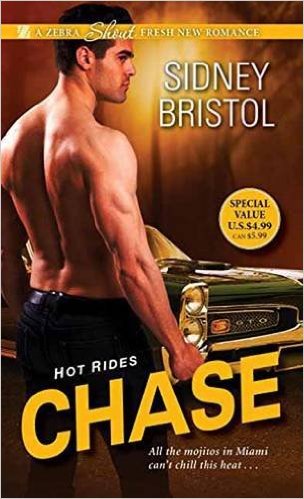 ended badly. He swore he'd never return and be a part of the agency again, so now he works alongside others undercover taking down bad guys. Never did he expect to see his ex-partner, Nikki Gage again, but he can't say he isn't happy about getting another chance to work with her. Can they overcome their past to achieve a second chance at love?
"Nikki is honest," he said.
"For a Hoover," Aiden threw in, using their private term for the FBI. Most of the agents they worked with just sucked the time and life right out of them.
"She's as honest as she can be." Gabriel stared Aiden in the eyes now. "Let's make her a deal. See what we can make happen."
From start to finish, I loved everything about this book. The main and secondary characters were fantastic, the dialogue was well-written and intense and the plot offered lots of excitement that just kept me wanting more because of everything the Hot Ride team have to do to succeed in taking down the bad guys. As this is a second chance romance, one of the tropes I like best, I couldn't wait to dive into this story. Not only because Gabriel is a character I've enjoyed in the previous books, but because he has a very complicated past with the heroine who just happens to be the daughter of the deputy director of the FBI.
Furthermore on the dialogue, it was intense due to this couple's past history, and what they go through in this book. How far would the Hot Ride team have to go to fight the bad guys? Would everything they've worked so hard for be lost? However, the dialogue wasn't all intense. There were definitely some light-hearted moments between Gabriel and Nikki, as they discussed the past to figure out whether they could have a second chance at love. Indeed, there's some seriously strong chemistry between the pair. Gabriel is overly protective of Nikki and every moment she challenged him with her stubbornness and determination to prove she can handle any trouble that comes her way had me smiling. She is an FBI agent, not a damsel in distress.
He hit the End Call button on his steering wheel. "He must not have the phone on him if we can't get him to answer."
"Why can't things go according to plan for once?" Nikki groaned and threw her head back against the seat.
"We had a plan."
"Not really, but this wasn't it."
"Honey, best-laid plans."
"Shut up and drive."
Both the main characters were fantastic, as to the secondary characters in the rest of the Hot Ride team. They trust each other to get the job done, and it was understandable for them to be wary of Nikki in the start. Yet, I liked how she won them over (especially Roni) with her ability to do her job and the fact that Roni needs someone to confide in.
Nikki is strong, brave and I liked how determined she is to complete the assignment she's been tasked with. At first, it isn't easy for her to be working with Gabriel again, but she managed by challenging him and keeping her eye on the prize so to speak; the prize of taking down the bad guys. Then there's the fact that she's the daughter of the deputy director of the FBI. That isn't easy either, and I could understand why she joined the FBI instead of worrying about the threat to her life because of her father's enemies. While Gabriel, he's protective and determined in their pursuit of the bad guys because the bad guy is doing something very wrong and needs to be stopped, no matter how high the danger. But what I liked most about Gabriel was how much he's been through in the past and how he's come out stronger because of the good things he's done since then in being part of the Hot Ride team.
Overall, Ms. Bristol has once again penned a wonderful novel for this series in this third book, which features a second chance romance that this romance reader was cheering for, because if any couple deserved happiness, it was Nikki and Gabriel. The strong chemistry spilled over onto the pages superbly through hot sex scenes that illustrated how good these two are for each other. How this story ended brought tears to my eyes because of what happens to one of the main characters, yet it was the epilogue that wrapped this story up nicely because of the test Gabriel and Nikki were waiting on and their discussion about it. I would recommend Chase by Sidney Bristol, if you enjoy second chances or romantic suspense. Then again, I'd recommend it to any female romance reader, because the men of the Hot Rides team are utterly HOT!
Book Info:

Publication: November 29th, 2016 | Zebra (Shout) | Hot Rides #3
The Classic Rides crew takes on top secret at top speed—and chases the same thrills between the sheets . . .
For Gabriel, the FBI is just a painful memory. His new team of motorheads may work for the Feds undercover, but they're nothing like the backstabbers and bureaucrats he left behind. Hunting drug dealers and smugglers in Miami gets him the adrenaline rush he wants and the justice he needs. All that's missing is the seal on the badge—and Nikki, his sexy ex-partner.
Until she shows up at his garage, wearing short shorts and a look that spells trouble. Nikki has never forgotten the heartbreak Gabriel left her with last time. Even if she can't have him, she still has to work with him. There's a homegrown terrorist recruiting military vets to a cult of fear and deception, and they all have roots in Miami.
It will take Gabriel and all the Classic Rides crew to stop a catastrophe. But in close quarters with sparks flying, it's only a matter of time before the old flame ignites . . .