Chasing Trouble in Texas by Delores Fossen is the second book in her Lone Star Ridge series.Come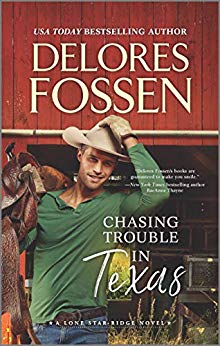 enjoy some fun playing Cops and Bobbers and Fairy Tale Rules. Don't forget your badge and tutu. You might also enjoy some sweet romance along with the fun games with three-year-old twin girls Avery and Gracie.
Well she didn't win the Miss Watermelon contest! The Miss Watermelon beauty pageant was a charity fundraiser for Saddle Up for Tots. A fundraiser that would have raised a lot of money for troubled kids. But no, her fundraiser partner, bull rider Cody Joe "Hot Steel Buns" Lozano was caught half naked about to push his boy part into the winner of the beauty pageant, Miss Watermelon's girl part. Caught no less by Miss Watermelon's mother! What a disaster for the fundraiser. McCall Dalton decided to drive to her Granny Em's ranch in Lone star Ridge to escape the reports and the whole mess. Since she didn't want Granny Em to see her all upset she decided to stop at her friend Austin Jameson's house first. She was shocked to see Cody Joe there, shocked yes, but then she was more than ready to kick him out. To be honest she wasn't 100% sure why she stopped at Austin's aside from not wanting to upset Granny Em. Maybe it was a bad idea because in spite of the presence of Cody Joe sparks were flying between her and Austin. Not going there! Unfortunately there were too many iffy things in her life to burden Austin with so, no, not going there.
Austin Jameson was still grieving the loss of his wife, Zoey who passed away a year ago from cancer. He adored his three-year-old twin daughters, Avery and Gracie and was the best daddy to them that he could be. Thus his current attire of a tiara and a tutu when he answered the knock on his door. He had just managed to get the girls to bed when Cody Joe showed up. Who knows what the guy thought when he opened the door wearing the tiara and tutu, his props for entertaining his girls at bedtime. Cody was at his place looking for McCall Dalton. Next thing he knew McCall walks up to him as he is trying to get rid of Cody Joe. Following McCall's arrival his brother Sheriff Leyton Jameson arrived in response to his call about Cody Joe. But there was also a San Antonio police car and two news vans from San Antonio stations. What a circus! The commotion woke up the girls who then spotted McCall in her fairy-like dress which she wore for the beauty pageant and the girls instantly dubbed McCall Fairy Lady. All this commotion was surely not going to sit well with Zoey's mother who had already threatened to sue for custody of his precious daughters since she thought she was the better person to raise them. Nope! She's never going to take his girls away from him.
I loved this story! The twins are super adorable with their games of Cops and Bobbers. McCall's and Austin's families are very supportive of them and I enjoy reading about family togetherness. The obstacles in the way of McCall and Austin getting together made for page-turning reading. The Dalton triplets and the Jameson family with their trials and triumphs is truly enjoyable reading.
Book Info:

Publication: May 19th 2020 | HQN Books | Lone Star Ridge #2
They've got each other—and a whole lot of trouble.
Austin Jameson's life is complicated enough. With twin girls he adores and a ranch he's dedicated to, the widower and cowboy is more than busy. But when his former flame arrives in his hometown, his world is thrown off balance.
Former child star McCall Dalton wants to run away—from her image and the scandal that has engulfed her. Brokenhearted and humiliated, she's come back home to Texas to escape.
Austin doesn't find peace and McCall doesn't get refuge—instead they rediscover every delicious inch of one another. Before long, their budding romance must face a custody battle with Austin's in-laws and yet another scandal. Determined not to let each other go a second time, they set out to prove that it's true what they say: love really does conquer all.