In It Started with a Secret by Jill Mansell, Lainey's never been lucky in love. And she's accepted that.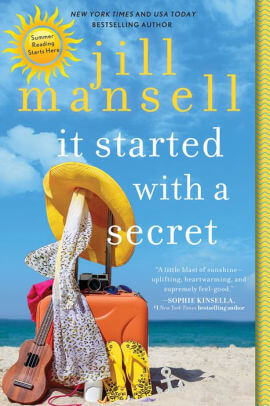 But when her bad luck spills over into her job–or more to the point, her new lack of a job–she's not sure how long it will take to find something else. Then she and her best friend Kit find a job ad to help a family organize their lives, being a bit of a jack of all trades. The fact that Lainey and Kit need to lie to get the position, that weighs on her mind. A lot. But it's nothing that will harm the lovely, eccentric family in any way. So what trouble can it really cause, right?
"I know it's a massive cliche, but life really is a roller coaster, isn't it?… You never properly appreciate the good times until they stop being good and you find yourself up to your neck in misery instead."
Lainey falls in love with the family as well as their gorgeous house in St. Carys, right on the beach. She and Kit are soon enmeshed in the daily goings on and making their mark on the home that needed some definite TLC. But it's the famous owner's grandson, Seth, who catches Lainey's attention. It's too bad they hadn't met under other circumstances because she can see herself falling for him easily. It's when the truth begins to come out not only about Lainey's little fib but also Seth's current situation that they realize their attraction is mutual. Just as things get even more complicated.
'[She] caught her breath as she felt their fingers slotting together as if they were a perfect fit. Would this simple gesture always have such an effect on her? Oh, she hoped so.'
A feel good novel with delightful characters and an interesting, strong plot, It Started with a Secret was filled with Jill Mansell's trademark humor and wit–as well as a beautiful book cover!
'It just went to show how one seemingly tiny action could set off a domino chain of consequences.'
Jill Mansell's books make me happy. There's something about the way she blends family, friendship, and romantic issues together so easily along with a relatable cast who are usually quite hilarious. And in It Started with a Secret, we had exactly that but with what felt like a more cohesive bunch of characters than some of Mansell's other zany stories. I loved Lainey, Kit, Seth, Majella and the rest of the crew. It helped that they all pretty much had the same goal: to keep their family/friends happy and to sort out their lives. But oh what funny predicaments they got into! Just as you'd expect from Mansell's stories.
Lainey and Seth were the main POVs we saw overall, but we did also get Majella's, Wyatt's, and Richard's views as well. Their interactions made me smile–well, for the most part, because of course there were some poignant scenes along the way. I will say that I was pleasantly surprised with how things worked out for our entire cast and with the fact that Lainey and Kit's arrival into the family based on a lie didn't bother me as I thought it would. It ended up that most of them had their own secrets. And each decision Lainey, Seth and the rest made compounded those secrets. It was quite the fiasco getting to the HEA for them, but I couldn't have loved each castmate more if I tried.
It Started with a Secret was a touching, one hundred percent charming novel that will be perfect for readers' summertime book lists. Jill Mansell has truly given her fans a gem with this endearing story.
Book Info:
Michele H| 4.5 Stars | HJ Recommends | No |
Publication: Published June 2nd 2020 | by Sourcebooks Landmark |
Jill's Mansell's heart-warming new book is the perfect escape from the winter weather. A beautiful Cornish setting, a chaotic family, a woman who's had enough of romance – or has she?
'IT STARTED WITH A SECRET is like a little blast of sunshine – uplifting, heartwarming and supremely feelgood' Sophie Kinsella, author of CHRISTMAS SHOPAHOLIC
The trouble with secrets is that you can't guess what the consequences will be . . .
Lainey has lost everything. Luckily one little fib (OK, quite a big fib) helps nail her dream job. Soon she's living in a stunning house by the sea, fending off obsessed fans for a retired – if far-from-retiring – actor and organising his charming but chaotic family. It's definitely worth the challenge of keeping her secret.
At least Lainey isn't looking for love. It's time for a break from all that. And yet . . . Seth, the actor's grandson, really is rather attractive. There's growing chemistry and a definite connection between them. But how would he react if he knew she hadn't been honest with him?
Lainey's not the only one with a secret, though. Seth has one of his own. And everything's about to start unravelling . . .