In Christmas at Holiday House by RaeAnne Thayne, Nurse Abby Powell knows it's time for a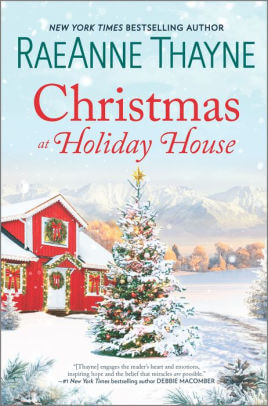 change. Since losing her loving husband two years ago to a senseless crime, their now five-year-old son Christopher has been her saving grace. Getting up everyday to take care of him and give her little boy the best life possible is her focus. And Abby gets the chance to take Christopher to snowy Silver Bells, Colorado, for a few weeks to care for her best friend Lucy's grandmother who took a recent tumble at home. The grand Holiday House will be sure to bring a sparkle to Christopher's eyes. But when Abby meets Lucy's brother Ethan and he proves to be more Grinch than Santa at first, she's not sure if the next couple of weeks will prove to be the respite she needs.
'The man was an enigma. Brusque one moment, kind the next. Her feelings for him were becoming as tangled as Christmas lights.'
Ethan Lancaster has his plate full. He runs the world-wide Lancaster Hotels, his family's legacy that means everything to him. It's his beloved grandmother Winnie that has him worried. Her recent fall has Ethan pleading with her to move out of the gigantic, historic Holiday House. Winnie will hear none of it. Having Abby, a capable nurse–and beautiful woman–taking care of his grandmother should ease Ethan's mind. But he finds himself torn, wondering how he can get more time with Abby and her adorable son Christopher. Not that he can offer a future. He's been conditioned from childhood to believe love equals chaos. But Abby seems to be opening up his formerly guarded heart…
"For a long time, I've worried that I wasn't capable of love, that my heart was somehow closed off permanently." He cleared his throat. "I didn't realize how wrong I was until you and Christopher came to town."
A RaeAnne Thayne book is something I always savor, but her Christmas novels? They are something to cherish. Christmas at Holiday House turned out to be a shining example of the reason for the Season and will definitely tug at your heartstrings.
The lights on the tree reflected off the shiny ornaments, magnifying their glow.
"It's lovely. Don't you think so?"
"Absolutely."
His voice sounded oddly intense. When she looked over, she met his gaze and discovered he was not looking at the tree at all, but at her.
You already know I'm a huge fan of all of RaeAnne Thayne's work. There's something rather magical, though, about the holiday stories she so lovingly creates. And the wonderful book covers that make you just want to walk into the picturesque scenes! It's easy to see that family, friendship, love, and compassion are important to Thayne–and it's what makes all the difference in her characters' lives as those elements are carefully woven throughout each book. With this novel, compassion and friendship in particular, along with the holiday spirit of course, were at the core of how Abby, Ethan, Winnie, Lucy, Jose and the rest of the cast overcame their personal dilemmas.
We actually had *two* romances in Christmas at Holiday House. The main couple was Abby and Ethan but there was a subplot between Ethan's sister Lucy and her longtime best friend Jose. Both couples were very different, as were their relationships. Although the issues Ethan and Lucy faced with their love matches were similar: they thought they weren't "wired" for love after seeing the havoc their parents wreaked during their childhood in the supposed name of love. It was rather sad to see their lack of confidence in their ability to care for someone long term. (They were proven wrong!!) I think some readers might get frustrated with the Lancaster siblings as Ethan and Lucy fight their feelings for Abby and Jose, respectively. But Thayne wrote their conflict convincingly and with such depth of emotion that it felt natural to me, given their situation.
I think Abby and her cute-as-a-button son Christopher will be what makes readers sigh happily. They had a wonderful bond. Something Abby, being a single mom since her husband died two years before, worked very hard at keeping that solid connection with Christopher. It was swoon-worthy to see how he also bonded with Winnie (loved her!!) and then Ethan. He thrived with not just the attention of everyone who banded around the mother and son duo, but with the love they gave and the way Christopher and Abby were included in everything Silver Bells had to offer.
Sweet and heartfelt. Filled with timeless sentiments and all the festive trappings of the holidays, Christmas at Holiday House is keeper shelf material…as I would expect from RaeAnne Thayne.
Book Info:

Publication: October 13th 2020 | HQN Books |
From the New York Times bestselling author of Season of Wonder comes an uplifting, brand-new story told with RaeAnne Thayne's trademark charm and heart—the perfect read for fans of Robyn Carr's and Debbie Macomber's holiday romances.
A widowed young mother's search for the perfect Christmas for her little boy leads her to Silver Bells, Colorado. Abby Powell becomes enamored with the heartwarming small-town community—with snow!—but not so much with her new client's less-than-jolly son, Ethan Lancaster.
Ethan, a single-minded businessman, has learned the hard way that love and family are not for him. But he never counted on the lovely newcomer to town—or the emotional pull she and her son, Christopher, would have over him. As Ethan and Abby work together to restore Holiday House, the Lancaster's historic family mansion, in time for Christmas, Ethan's heart begins to open along with his home.
Watch for Christmas at Holiday House, coming soon from HQN Books!