Christmas Ever After by Karen Schaler: Riley Reynolds is a bestselling romance writer, but is afraid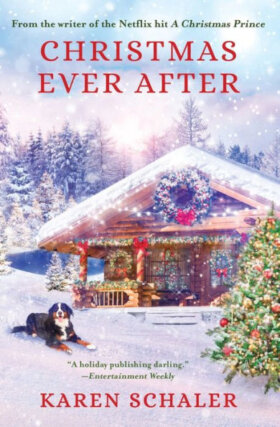 her publisher will drop her after her last novel didn't have big sales and even her fans thought there was just not the same feeling of true love. In an effort to boost her sales and try something different, Riley's publisher wants her to try writing a Christmas book. Due to past events, Riley hasn't really had many true Christmas traditions It is decided she can have a special Christmas Camp with a limited number of fans in a special lodge known for Christmas celebrations.
Right before the camp, Riley is a guest on a national show. When the host asks her about who inspired her love stories, she says she had one true love in the past.
This revelation leads to all three of her ex-boyfriends showing up at the Christmas Camp book event, thinking they are the one and now have a chance to win her back. Will Riley learn to love Christmas again and find her true love?
I love the idea of a small author event where you could really get to know someone on a personal level. The author really makes the reader believe that there could be this sort of event. From attending a good many romance events, I have found those authors to be genuine and they truly appreciate their fans. The Christmas Camp events are described in just the right amount of detail.
The three suitors come across as romantic and caring. It is nice to see exes as kind and not villains or betrayers.
One of my favorite characters in the book was Comet, the dog. What a perfect name for a dog who was part of Christmas Lake Lodge. Comet provides a lot humor and warmth. Christmas Ever After is wonderful sweet romance to light up your holiday season.
Book Info:

Publication: September 29, 2020 | HawkTale Publishing |
While promoting her next novel, a Christmas love story, author Riley Reynolds is caught off guard when she's asked during a live national television interview how she can write about romance when she still hasn't found "the one" herself. Scrambling for an answer, she quickly answers that she has had great love in her past and that love inspired her novels.
Little does she know that this one offhanded remark will turn her world upside down. Three of her ex-boyfriends see the interview, and each, believing she's talking about him, shows up for her Christmas Camp book event at the Christmas Lake Lodge, determined to rewrite his happily-ever-after with her!
Over the festive weekend, Riley's old boyfriends compete to win her heart, pulling out all the stops while planning the most romantic Christmas dates on the planet. Despite herself, Riley starts falling for each guy— again—but for different reasons. As Riley revisits each relationship and discovers more about herself, she embraces the magic of Christmas and finally finds true love and her own Christmas ever after…