Home for the Holidays by Sara Richardson: With a few blessed weeks to escape their lives and their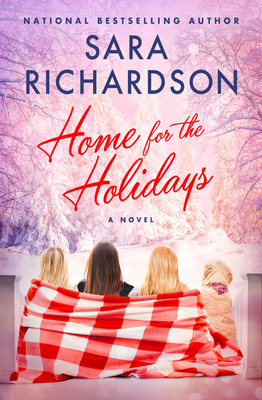 separate struggles, the flower sisters, Magnolia, Dahlia and Rose make a hasty journey back to the winter hills of Colorado to share a supposed last Christmas with their aunt Sassy. Sassy, something of a local legend, coaxes the three women back to their childhood holiday destination on what first appears to be a dying wish. However, what soon becomes evident, is it is more a case of childhood memories dying rather than their aunt, and so the four women set about having a Christmas extravaganza to remember for a lifetime.
Magnolia, having just recently discovered her third IVF treatment has failed, and indeed with it potentially her marriage, escapes to Juniper Inn to get some needed space to deal with her grief. Rose, about to marry into Savannah royalty, is feeling the enormous pressure to please her demanding future mother in law, starting to realise that every choice made from here on in will require deep consideration of public opinion rather than her own and so escape has never had a better ring to it. And Dahlia, having lived the life of a divorced mother, and servant to her ex-husbands whims, takes the opportunity to return to the frigid hills to try and figure out who on earth she is anymore. From the onset, the three sisters lament how much they have drifted apart and whilst each is in the throws of dealing with her own demons it is clear they need to open up to each other as a way of re-bonding and sharing the difficult burdens they bear ,to lessen the weight on their hearts.
Opening with a letter from Sassy and an individualised gift received by each sister, the backstory, character foundations and potential journeys were mapped succinctly in the opening 20 seconds leading deftly into a narrative that was delivered from the three perspectives. Whilst the narrative voice didn't change terribly, it was enough of a pivot to enable the reader to take three separate trips and end up at the one destination.
Each sister has certain appeal and each are created cleverly in order to enable a diverse readership, wherein the audience will innately align and find one of the three more sympathetic. And blessedly, each sister is at a very different stage of life despite the 2 years between each; falling in love and the pressure of marrying into a controlling high society family knowing your identity might by a causality of that love, or losing the dream of motherhood and potentially your husband with it, or having two children and an ex-husband who take you for granted to the point where you wouldn't know love if it smacked you in the face warning you from a perilous moose on the road.
Undoubtedly, the uniqueness of each sister and her specific love story will sing to the hearts of all; but at it's core, this is a story about family, memories and remembering what is most important in our lives. Whilst at times a little Hallmarkish in its clean family first and romance tones, this is a sweet reminder to us all, that in matters of the heart, we should all head home for the holidays in order to remember who we once were and who we will continue to become.

Book Info:

Publication: 22nd September 2020 | Forever |
The Buchanan sisters all share special childhood memories of their Aunt Sassy's beloved Juniper Inn. There, they frolicked in the snow, baked sugar cookies, and celebrated the town's annual Christmas extravaganza. They haven't been back to Colorado in nearly fifteen years, but when their aunt invites them for one last Christmas, they can't say no . . .
With her ex-husband whisking her children away for the holiday, Dahlia decides it's time to do something for herself. Juniper Springs is just as beautiful as she remembers, but it's also full of surprises — including the town's handsome doctor, who makes her feel like herself again for the first time in years.
To the outside world, baker Magnolia has the ideal marriage. Only the pain and sorrow of infertility have strained her relationship with her husband, perhaps beyond repair. But a holiday miracle is about to change her life.
After a whirlwind romance, youngest sister Rose is about to be married, but as the wedding draws near, she's unsettled by her fiancé's expectations that she become a society wife. Spending Christmas with her family could be a necessary reality check — or the beginning of a brand-new happily ever after.
Thanks to the strength of their sisterhood, some mistletoe, and the love of their Aunt Sassy, the Buchanan sisters will discover what it is they truly want this Christmas.