More Than We Bargained For by Fiona West: Starla is struggling to get her life back into order with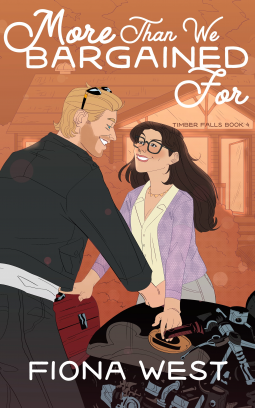 her divorce going on and having to look for a new place for her kids and herself to live, all while trying to get the gossipy small town to accept that she is in fact on her way to being a single woman. Not being the type of gal to want hand outs Starla finds herself pushing the limits to keep her and the kids comfortable. With all that is going on the one thing that brightens up her life every week is the anonymous book deliveries to her library.
"She'd gotten more than she'd bargained for, and she wouldn't give it up for anything."
The one person that can't wait for Starla's divorce to go through is recluse Sawyer, after seeing Starla being put through the ringer by her soon to be ex, Sawyer is more than happy to see the beautiful mom soon to be on the dating market again, after all he has been harboring a massive crush on Starla. You see Sawyer has been trying in his own small way to help bring a smile to Starla by leaving her a box full of new books every week. But when Sawyers health takes a sudden turn and he suffers from seizure brought on by his MS right in front of Starla, he doesn't think twice of offering up his spare cabin to her and the kids. With Sawyer unable to drive himself any longer Starla finds herself chauffeuring him around which only leads the two to grow closer and closer.
"Can't be. I wasn't going to fall in love again."
"You say that like you had a choice."
"Love is always a choice."
This was a great read, I absolutely loved getting back to this cute small town and all their locals. This book had a easy to follow writing style which made it super easy to finish in one night – it was to cute to put down! I loved that all the characters were well developed; even Starla's cheating ex had more depth to him than just being painted as a bad guy.
Now let's take a moment to soak in what an amazing guy Sawyer was! There was absolutely nothing not to love about this guy. Not only was he a sweet heart and a nice guy but he anonymously donates books to the local library. Though my heart broke for him, having to come to terms with his MS diagnosis and losing his ability to be a surgeon could put anyone into a dark place but he managed to still see the light to life. As for our girl Starla; well if I am being honest she was not my favorite female lead, like lady you have kids why didn't you ask you ex for child support to help feed them?? Aside from that I liked her.
"You make me feel better, even when I feel lousy. Having you around. Seeing you smile. Touching you . . . I mean, the touching, that's new, but I'm finding it addictive already."
More Than We Bargained For was a cute clean small town romance that wasn't just a romance but one that had very realistic lifelike characters with real life issues. This is definitely a series I would recommend reading.
Book Info:

Publication: November 9th 2020 | Tempest and Kite Publishing | Timber Falls #4
Wanted: renter for rural Oregon mountain lodge. Single mom divorcees named Starla preferred.
Starla Moore despises a mystery, and there's no bigger mystery than Sawyer Devereaux. He comes into the library on Thursdays like clockwork, but rarely talks to anyone else. Not that she despises him; after all, he's easy on the eyes, quick-witted, and that Southern accent makes her swoon. But in the midst of a divorce, her only romance is the bookish kind. Worst of all, crashing with her bestie won't be an option soon, especially since her final fling with her husband had one very specific unintended consequence…
Regaining consciousness with his head in the cute librarian's lap was a rude awakening; Sawyer thought his health problems were under control. Sans driver's license, there's no way he can live in his little cabin alone…or keep up with the anonymous book donations he's been leaving to make Starla smile. When he finds out she's struggling financially, he proposes a trade: his housing for her driving. Surely he can keep his feelings a secret for a few more months…
He's given up on his dreams; she's just figuring hers out. When the rumors start, will it push these two misfits together…or drive one of them out of Timber Falls for good?
More Than We Bargained For is the fourth book in the Timber Falls romantic comedy series. If you like town meeting rants, neighborly concerns that become something more, and water fights that heat things up instead of cooling them down, buy this book now. This book contains no open-door sex scenes, no cheating, and a happily ever after.