Christmas in Rose Bend by Naima Simone finds ER nurse Nessa Hunt the newly appointed guardian for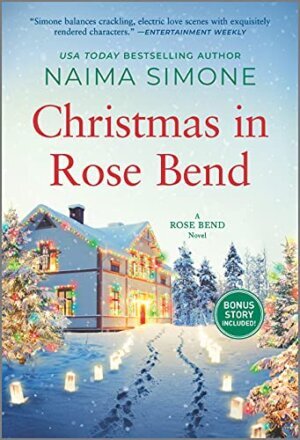 her teenaged half-sister, Ivy. Not only is Nessa grieving the loss of her mother, she's now also grieving the loss of the man that she thought had been her father. On top of that she has an angry, grieving teenager who seems to hate her, and Nessa has reached her breaking point.
Following Isaac's wishes, she takes Ivy to Rose Bend. It was not only his dying wish for the sisters to forge a better relationship, but he wanted to help Nessa find the father she never knew existed. The pair plan to stay a month in Rose Bend during the Christmas season. Nessa wants nothing to do with the holiday and all the town celebrations, but Wolfgang Dennison, the son of the innkeeper, is determined to change that.
The moment Nessa and Ivy walked into his mother's inn, Wolf recognized the strain between the pair and wanted nothing more than to fix it. Coming from a large family, Wolf has always been the fixer. He instantly forms a bond with Ivy, but realizes Nessa is going to be harder to get to open up. That doesn't stop him from trying, nor does it stop him from trying to get Nessa involved in all the town festivities. Before she knows it, Nessa finds herself starting to enjoy herself, but more than that, she finds herself starting to fall for Wolf. The only problem is her job is in Boston, and history has shown her that everyone she cares about ends up leaving her. Will Wolf be able to perform a Christmas miracle and get her to realize that she could have everything she wants in Rose Bend?
This is the second book in the series, but it works as a standalone. While there are some mentions to things that were covered in the first book in the series, readers won't feel lost if they're jumping into the series here.
Wolf and Ivy's instant friendship was cute and it was nice to see Ivy find people she felt she could connect with, especially with her relationship with Nessa being so strained. It's easy to feel for both of the sisters; they've both experienced lose, and it's easy to understand why Nessa would feel jealous of the father/daughter relationship Ivy had with her father. Wolf himself understands both of them, as he's dealing with the guilt of losing a friend while they were serving in the military.
Naima Simone has done a wonderful job creating realistic characters dealing with complex emotions and situations. This is a book about secrets, loss, family, healing, and love. Readers who enjoy small-town romances set during Christmas are in for a treat with this emotional addition to the Rose Bend series.
Book Info:

Publication: October 26, 2021 | HQN Books | Rose Bend #2
Grieving ER nurse Nessa Hunt is on a road trip with her sullen teen half sister, Ivy, and still reeling from her mother's deathbed confession: Nessa's dad wasn't really her dad. Seeking answers, they arrive in Rose Bend to find a small town teeming with the kind of Christmas cheer Nessa usually avoids. But then she meets the innkeeper's ruggedly sexy son, Wolfgang Dennison.
Wolf's big, boisterous family is like a picture-perfect holiday card. Nessa has too much weighing on her to feel like she fits—even though the heat between her and Wolf is undeniable. And the merriment bringing an overdue smile to Ivy's face is almost enough to make Nessa believe in the Christmas spirit. But with all her parental baggage, including lingering questions about her birth father, is there room in Nessa's life for happy holidays and happily-ever-after?