Christmas in the King's Bed by Caitlin Crews is an October 2020 Harlequin Presents release. A royal bride of convenience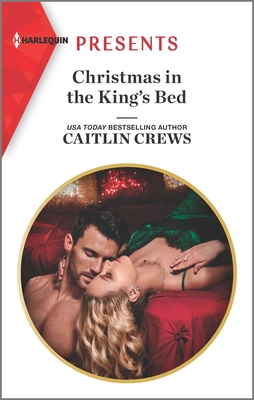 story packed with witty dialogue, heartbreaking emotion and dramatic events all swirling around a beautiful royal kingdom, a handsome king, evil fathers, stunning secrets and most importantly being held together by all of the emotional feels that kept me gripped to the very last page!
King Orion is blackmailed into marriage, not by his beautiful Queen to be Lady Calista but by Lady Calista's evil father. King Orion is a proud man who isn't afraid to remind those around him who he is, be it Lady Calista when she's rattling his composure, his playboy brother Prince Griffin who I can-not-wait to read his story, or his evil father in law. He's serious as serious can be but there's something about Lady Calista that makes him open up more than he ever has. I really liked the author's spin on this King.
Lady Calista is driven by her life-long plan of destroying (her words) her evil and violent father. Every day has been leading to the ultimate showdown which is looking to be derailed when her father makes King Orion honor his betrothal to her. Thinking of it as an inconvenient road block and something that isn't really going to happen, she's made to question herself and everything she's strived for when she becomes close to King Orion and when her sister wisely suggests she looks at it as an opportunity rather than an inconvenience. I really enjoyed her character.
Both Orion and Calista's emotions and concerns are a product of their fathers and their upbringing. The sensational history of the previous King and the scandals he still leaves in his death makes Orion desperate to make the kingdom a better place for his people. Calista is protecting family and can mostly only see one way to protect her loved ones. Both of them are either going to be destroy themselves or become a team and conquer all the wrongs into rights together.
Caitlin Crews has delivered a beautifully emotional story, it's packed with everything including fantastic dialogue, scandal, emotion, enjoyable secondary characters, the feels and me literally saying out loud to Calista "You did NOT just do that!" more than once. If I had one ounce of writing talent it would be the exact story I would want to write myself. I loved it and I can.not wait for Book 2!
Book Info:

Publication: 01 October 2020 | Harlequin Presents | Royal Christmas Weddings Duet Book 1
USA TODAY bestselling author Caitlin Crews brings scandal, drama and tantalizing desire to this marriage of convenience romance. All with a festive twist…
His royal bride of convenience: Unwrapped and undone!
Orion is determined to rule his once-dissolute kingdom with integrity and respect. That means honoring his betrothal to Lady Calista Skyros. A woman whose father deals in scandal — and who threatens his unwavering self-control…
Calista knows her royal marriage was brokered by blackmail, but she has her own reasons for accepting Orion's hand. Yet her husband shocks her with his demand for complete honesty. And as her first Christmas as queen approaches, her unstoppable desire for the king becomes her most dangerous truth of all!
From Harlequin Presents: Escape to exotic locations where passion knows no bounds.
Read both books in Caitlin Crews's Royal Christmas Weddings duet:
Book 1 — Christmas in the King's Bed
Book 2 — His Scandalous Christmas Princess (less)