In Christmas with her Daredevil Doc (Miracles at Muswell Hill Hospital #1) by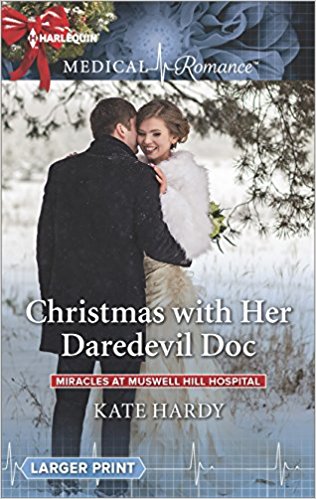 Kate Hardy (HQN), losing her fiancé was a painful time in Hayley Clark's life, but now she's finally ready to start moving on with help from her best friend. When they make a pact to make the most out of life for the next year, Hayley finds herself giving Sam Price a chance while she's on vacation. Never imagining she'd see him again after heading home, Hayley finds herself working alongside Sam at Muswell Hill Hospital. Will Sam be able to convince Hayley to give forever after another chance, or will Hayley's fears of losing someone else she loves tear them apart?
Danielle stared at her in surprise. "I can't ask you to do that. You hate running."
"Yes, but it's for a good cause. I can run it for you. Remember, we agreed, this is the Year of Saying Yes. We've both had a horrible year."
Although I liked the way this story started with Hayley and her best friend, Dani, making a pact and doing everything they can to stick to their agreement, I had mixed feelings when it came to the direction this story took, as the heroine is indecisive when it comes to whether she can commit to the hero. Since Sam's need for doing dangerous things reminds her too much of her late fiancé and his career as a firefighter. Will Sam be able to prove to Hayley that he'll do everything in his power to stay safe?
As for the dialogue, it was intense due to the main characters back stories that has left them wary of giving forever after another chance, as Sam has trust issues due to what his ex did and Hayley has abandonment issues because of what happened to her fiancé. Furthermore, Sam was a really enjoyable hero with his desire to live life to its fullest and I was charmed by how far he was willing to go for his patients, especially when a medical emergency comes up that reminds him of the past. I also liked how determined Sam was to win the heroine over by doing everything in his power to prove that he'd stay safe. Will he be able to keep his promise?
"He cycles to work. He likes extreme sports." Hayley sucked in a breath. "And now I know he's signed up for MERIT. You and I both know how dangerous it can be out there. No, there are way too many risks in his life for me."
"You need a little risk in life to keep moving." Danielle said gently. "Don't throw the baby out with the bath water."
"I can't do it, Dani." Hayley said. "I can't take that risk. What if something goes wrong?"
"What if it doesn't?"
While the heroine, she's strong and brave in the way she wants to move forward from losing her fiancé so tragically. I also liked the close friendship Hayley shared with her best friend, Dani, and what she's willing to do for her when it came to the event Dani was supposed to be taking part in. Yet, what I liked most of all about the heroine is that she took a chance on Sam, because he's good for her just as she's good for him. However, in saying that, I found it hard to deal with the heroine's indecisiveness when it came to Sam coming back into her life and the two of them working together. One moment she wants to take a chance, and then she's afraid that she'll lose him the same way she lost her fiancé.
Overall, Ms. Hardy has penned a read that I liked in this book where I didn't feel the connection between Sam and Hayley much when they first met, but once they started working together their chemistry really came alive. Moreover, the ending had me wondering whether the heroine would ever decide if forever after was possible between her and Sam, and I enjoyed how things worked out for the pair. Hayley couldn't continue to be afraid to lose those she loves forever, otherwise she'd never be fully happy in life. I would recommend Christmas with her Daredevil Doc by Kate Hardy, if you enjoy second chance romances or books by authors Karin Baine, Amalie Berlin, Janice Lynn and Emily Forbes.
Book Info: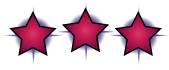 Publication: October 17th, 2017 | Harlequin Medical | Miracles at Muswell Hill Hospital #1
Can he convince her to be his Christmas bride?
When Dr. Hayley Clark met Sam Price in Iceland, their holiday romance was unforgettable–and unrepeatable! Sam was the first man to reawaken Hayley after losing her firefighter partner, but she wasn't ready to risk her heart again, especially with a guy who loves danger!
But when Sam arrives at Hayley's hospital as the new registrar they're both shocked and delighted–could their fling become more after all? Only if Hayley can come to trust that her daredevil doc can both heal and protect her heart–forever!