Christmas with her Lost-and-Found Lover by Ann McIntosh is an October 2020 Harlequin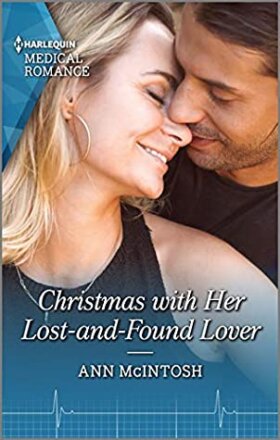 Medical Romance. It's all hands-on deck and an action-packed opening chapter that had me hook line and sinker with Anne McIntosh's latest Medical Romance. A cracker of a way to re-introduce two long lost lovers and the news ER & ex SAR Dr Elise Van Hagen needs to share with Vet, Dr Rohan Khan.
Spaced out in the days before Christmas, ironically the same time of year everything was ruined in the past a beautiful story unravels which is full of beautiful moments with animals and medical events in both the Vet hospital and ER hospital. With Elise struggling with her past and her issues around the SAR side of her career and Rohan struggling with his family's awful betrayal and his amnesia together they work together to fill in the missing puzzle pieces. And while the brain may not remember, the body could not forget the natural feelings between the two while the story rolls towards the climax of Rohan meeting his son.
One of the differences in this book is the ages of the characters; they're older than usual but I feel it worked really well and I for one found it quite refreshing because sometimes I struggle with the younger female characters being so wise for ones so young. It was a risky move to step outside the norm and I think it's very brave of the author.
I found Ann McIntosh's Christmas with her Lost-and-Found Lover to be an exciting, entertaining and adorable red. It was a mature and romantic with a drop of mesmerizing mischievous. I really, really enjoyed it and would recommend it to anyone who loves their heroines motivated and smart and their heroes loving and genuine. Wonderful read!
Book Info:

Publication: October 2020 | Harlequin Medical Romance |
He's walked back into her life—
After half a lifetime…
It's been years since Rohan Khan promised Dr. Elise van Hagen that he would be back for Christmas. But he never returned and Elise raised their son alone. So when the veterinarian reappears during a rescue in snowy Banff, Elise can't believe her eyes! But Rohan has no memory of their past. Can these long-ago lovers make up for all the Christmases they have missed?
From Harlequin Medical: Life and love in the world of modern medicine.