In Love Your Life by Sophie Kinsella, Ava's life has been trundling along on a pretty good note, with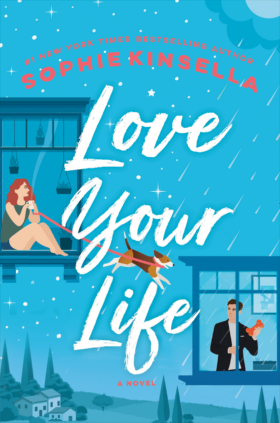 her many hobbies, her wonderful friends, and her adorable beagle Harold. But her love life isn't faring so well. Her latest dead end date–after using an online app–is enough to have her rethink her approach to finding a man. To basically let the universe bring them together. Ava just never considered it would be while she's in Italy at a retreat for writers that would bring her face to face with the guy of her dreams.
"You might just think this is a holiday fling." My voice trembles a little. "But I think…I already feel like it's…more."
"I think it's more too," Dutch says at last in a low voice, and he squeezes my hands tight.
No one at the retreat can use their real name or give personal info, so "Aria" as Ava becomes known as, meets handsome "Dutch". A wild and passionate vacation romance ensues with promises for a future. But when it's time to go back to the real world, Ava and Dutch, aka Matt, begin to realize it might not be so easy to merge their lifestyles. From differences of opinion to drastically different ideas on home decor, and even not seeing eye to eye on their careers, Ava and Matt have a lot of work and compromising to do if they hope to make things last between them.
"I love you," he sounds suddenly weary. "But sometimes I feel like your life hates me."
Laughs, unique characters, and Sophie Kinsella's effusive charm dominated the pages of Love Your Life, a romance with a comedic edge that explored the growing pains of new relationships and the difficulties of finding your path in life.
'I love this man because of who he is and in spite of who he is. All at once. And I hope he loves me the same way.'
Sophie Kinsella's writing always brings a smile to my face. And that was the case more often than not with Love Your Life. There were actually a few serious moments and times when things looked a little bleak for Ava and "Dutch", aka Matt, but overall it was lighthearted as one would expect. I will say that I was smitten right from the start with two things: Ava's mischievous beagle Harold; and the secondary characters we met along the way. What a hoot! Kinsella must have either had a beagle or did her homework because she nailed all of the traits, right down to their penchant for getting out of trouble with their sad, soulful eyes. (lol)
As far as Ava's and Matt's best friends went, we had an eclectic blend of personalities that worked surprisingly well together. It might have been a bit like controlled chaos when they all were in the same room, but they had their own mini subplots going on, making the story feel even richer. Nell in particular was a central background person who I think will have readers rallying around her and her outcome.
Matt and Ava, though…they were in for a rude awakening when they came back from their writer's retreat all happy and in the beginning stages of love, only to find out that making their relationship work would take some major adjustments. Something I think Kinsella painted in a fairly realistic light. I will caution that Ava was on the flighty side, flitting from one idea to the next, even in the same sentence. But she was a wonderful, caring, decent person so you couldn't help but like her. And Matt was stuck in his career as it was a family-run business. (I don't want to give away the surprise of *what* the business was!) He was an easy-going guy otherwise and was very much present when he was with Ava, which I loved…until his work life intervened. So I think their struggles will be relatable. And the way it all ended? Worth every hiccup they endured along the way.
Love Your Life was an enjoyable romp that took us from London to Italy and back again. If you're a fan of modern romance with some fun twists to it, you won't regret picking this one up.
Book Info:
Michele H| 4 Stars | HJ Recommends | No |
Publication: Expected publication: October 27th 2020 | by Dial Press |
From the #1 New York Times bestselling author of I Owe You One, an utterly delightful novel about a woman who ditches her dating app for a writer's retreat in Italy–only to find that real love comes with its own filters
"As close to perfect as romantic comedies get."–Jenny Colgan, New York Times bestselling author of The Bookshop on the Corner
Call Ava romantic, but she thinks love should be found in the real world, not on apps that filter men by height, job, or astrological sign. She believes in feelings, not algorithms. So after a recent breakup and dating app debacle, she decides to put love on hold and escapes to a remote writers' retreat in coastal Italy. She's determined to finish writing the novel she's been fantasizing about, even though it means leaving her close-knit group of friends and her precious dog, Harold, behind.
At the retreat, she's not allowed to use her real name or reveal any personal information. When the neighboring martial arts retreat is canceled and a few of its attendees join their small writing community, Ava, now going by "Aria," meets "Dutch," a man who seems too good to be true. The two embark on a baggage-free, whirlwind love affair, cliff-jumping into gem-colored Mediterranean waters and exploring the splendor of the Italian coast. Things seem to be perfect for Aria and Dutch.
But then their real identities–Ava and Matt–must return to London. As their fantasy starts to fade, they discover just how different their personal worlds are. From food choices to annoying habits to sauna etiquette . . . are they compatible in anything? And then there's the prickly situation with Matt's ex-girlfriend, who isn't too eager to let him go. As one mishap follows another, it seems while they love each other, they just can't love each other's lives. Can they reconcile their differences to find one life together?