Christmas Witness Conspiracy by Maggie K. Black is the fourth book in her Protected Identities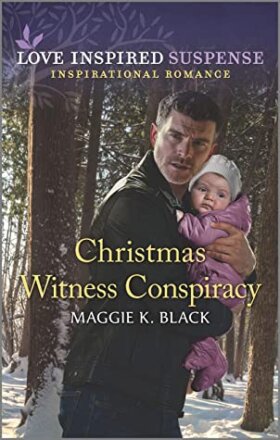 series. Talk about twists and turns… This story is super twisty and turny.
Kelly Marshall fell in love twenty-two years ago. She fell in love with the man who was charged with protecting her prior into going into the witness protection program. They only had two weeks together but their relationship resulted in Kelly becoming pregnant. She gave that precious baby girl Hannah up for adoption believing she'd have a better life with her adoptive parents. Kelly tried to tell Hannah's father Liam Bearsmith about the baby but she never received any answers to her letters.
Fast forward twenty-two years. Hannah's adoptive parents have died and Hannah researched and found her birth mother, Kelly. Hannah is married to Renner Phillips and they have a baby girl they call Pip. Renner is presumed dead but isn't and Kelly, Hannah and Pip are on their way to meet him and disappear with him when Liam Bearsmith resurfaces and tries to arrest Kelly. That's when everything goes crazy and Kelly and Liam go on the run. Many adventures, dangers and close calls await them.
Liam Bearsmith insists he is married to his job as a detective with the Royal Canadian Mounted Police. He lost the love of his life years ago when he looked into Kelly Marshall's witness protection file and found that she was married and had four sons according to the records. Imagine his surprise when he hunts down the hacker called The Sparrow and discovers it is Kelly. Kelly, along with Hannah and Pip are on a cruise ship for the Ugly Sweater Cruise around Lake Ontario. They have plans to leave the ship to meet up with Renner and loose themselves in the USA. Liam can't let that happen. The ship is taken over by a group of Hackers, the Imposters, looking to kidnap Hannah to get to Renner. Liam manages to save Kelly and baby Pip and the adventure to save kidnapped Hannah and stop the Imposters' nefarious plans begins.
Friends turn into enemies or do they? There are kidnappings, gun battles and tons of danger to throw roadblocks in Kelly and Liam's road to a HEA. Liam is one capable, strong, determined and stubborn guy. No one is going to take Kelly away from him now he has found her again and he is going to stop the Imposters' plan. Kelly never fell out of love with Liam and sticks with him now no matter what. Liam's team is there for him and it was great to see all the characters from the earlier books again. This is a great series and I high.
Book Info:

Publication: October 1st 2020 | Love Inspired Suspense | Protected Identities #4
Reunited in peril…
The family he never knew is under siege.
Detective Liam Bearsmith's life is turned upside down at Christmastime when the hacker he's tracking turns out to be the witness he fell for twenty years ago. But Kelly Marshall insists she's being framed, and he wants to believe her…especially after criminals attack them. Can he clear her name, even as he shields Kelly—and the family he never knew existed?