Cinderella's Desert Baby Bombshell is one of the most enjoyable Lynne Graham new releases.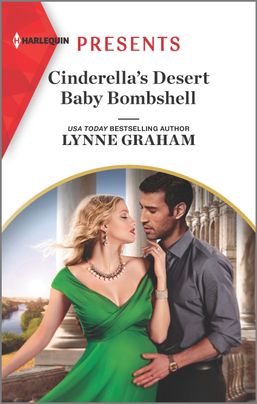 Tatiana is thrown in the middle of her cousin's wedding, as the bride. Only intending to help her cousin with providing enough time for her to run away; not to actually be the bride, Tatiana is thrown a curveball when her uncle threatens her and Prince Saif continues with the marriage.
Lynne Graham has weaved a wonderfully exotic world with an equally beautiful Prince. Mixed in with a wicked family and disastrous cousin, I was hooked. With a wonderful tale weaved, I loved how clear it was for all to see Saif was falling in love, all we needed was both him and Tati to be brave and speak what they both felt before time ran out.
Sprinkled with humor and good old fashioned drama, I really enjoyed Cinderella's Desert Baby Bombshell and am looking forward to book 2 and reading more about the Prince's mysterious brother.
Book Info:

Publication: September 2021 | Harlequin Presents | Heirs for Royal Brother's #1
From substitute bride…
To carrying the royal heir!
For her family's sake, penniless Tatiana Hamilton must marry Prince Saif after his original bride, her cousin, disappears. At least the ice-cold sheikh promises to end their sham marriage quickly. Until, on their opulent honeymoon, their simmering chemistry grows too hot to ignore…and Tati discovers she's pregnant!
Saif closed his heart when his mother abandoned him. He'll never do the same to his own child! But as he opens his mind to fatherhood, can brooding Saif also open himself to a relationship as real as their unstoppable passion?
Read all the Heirs for Royal Brothers books:
Book 1: Cinderella's Desert Baby Bombshell
Book 2: Her Best Kept Royal Secret