A Lot Like Adiós by Alexis Daria: The last thing Gabe had planned for was to return to New York City and all the drama that he had left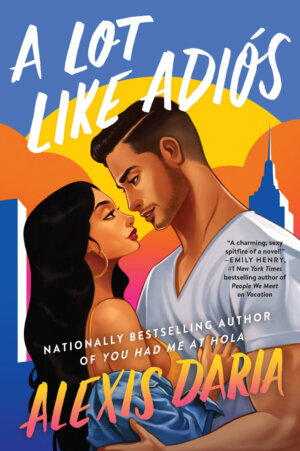 behind, but with his business partner determined to open up a new fitness centre Gabe has little to no choice in the matter especially when he hears that his childhood best friend and crush Michelle will be working with them on setting up the new business. After being apart for a good twelve years things are bound to be awkward between Gabe and Mich but one thing neither of them expected was to fall back into their old ways so easily.
If someone had told Mich that she would be sharing a house with her old friend Gabe after all these years she would laugh in their faces, however it would seem that fate has a wicked sense of humour in throwing these two old flames back together. With her apartment being renovated and Gabe being one of the new partners that hired her Mich has little to no choice but to face her past head on. Only this time with the added complications of working together, dodging both of their meddlesome parents and trying to navigate the insanely hot chemistry that keeps brewing between them. Will Gabe and Mich finally be able to figure out a way to stay together or are they going to find themselves saying goodbye just as soon as they have said hello?
A lot Like Adiós was the perfect steamy second chance romance that had me flipping the pages! I have to say I loved the back and forth between the present, their past and their fanfiction. On the topic of the fanfiction, just brilliant! I loved following Zack and Riza's story just as much as I loved following Mich and Gabe's. The addition of the fanfic only made this book all the more enjoyable!
Both Gabe and Mich were amazing, I loved the connection between these two characters and the insanely hot pull that just drew them back together. As much as this was a second chance romance it was also a story of two people trying to find their way and place in life, balancing their personal lives and keeping their families happy. Michelle was such a strong female character with an amazing connection to her family, even when they tend to get a little over invested in her love life. As for our boy Gabe, as much as he wants to be a strong independent individual his strained past with his family seems to always be looming over his head.
One of the things that I love and appreciate about Daria's books is that they are all so inclusive. She not only includes different race groups and ethnicities but she doesn't shy away from bring in the LGBT community. I have said it before that she does an amazing job at painting the picture of the Latinx community and this is true once again with this book. Family always plays such a major role in her novels and this was very much a theme in this book.
A lot Like Adiós is an absolute must read, this steamy second chance romance will have you laughing, crying, swooning and laughing again all the way through Mich and Gabe's story.
Book Info:

Publication: September 14th 2021 | William Morrow Paperbacks |
Hi Mich. It's Gabe.
After burning out in her corporate marketing career, Michelle Amato has built a thriving freelance business as a graphic designer. So what if her love life is nonexistent? She's perfectly fine being the black sheep of her marriage-obsessed Puerto Rican-Italian family. Besides, the only guy who ever made her want happily-ever-after disappeared thirteen years ago.
It's been a long time.
Gabriel Aguilar left the Bronx at eighteen to escape his parents' demanding expectations, but it also meant saying goodbye to Michelle, his best friend and longtime crush. Now, he's the successful co-owner of LA's hottest celebrity gym, with an investor who insists on opening a New York City location. It's the last place Gabe wants to go, but when Michelle is unexpectedly brought on board to spearhead the new marketing campaign, everything Gabe's been running from catches up with him.
I've missed you.
Michelle is torn between holding Gabe at arm's length or picking up right where they left off—in her bed. As they work on the campaign, old feelings resurface, and their reunion takes a sexy turn. Facing mounting pressure from their families—who think they're dating—and growing uncertainty about their futures, can they resolve their past mistakes, or is it only a matter of time before Gabe says adiós again?