Claimed by a Steele by Brenda Jackson: A trucker and a reporter, interesting combo but like onions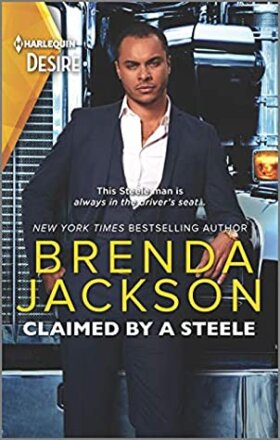 both have many layers and are certain to make you cry as they peel each other back to gain the "true" them.
Delphine Ryland was young, but had lived so much that she might just be an old soul. Or maybe it was spending so much time with her mother. Or maybe it was going through love and loss, life and loss. Whatever the case may have been she certainly felt older than her 26 years. She was taking pride in her work though and this might be one of the most interesting interviews she had ever done, not to mention one of the most attractive interviewees.
Gannon Steele was used to women being attracted to him. He was a Steele after all and now he was the ONLY single one. It was a blessing and a curse he was more than willing to suffer with. He was also incredibly smart and ran one hell of a trucking company that he loved so he was more than happy to be interviewed and tell anyone and everyone about it.
Neither Gannon nor Delphine had a clue what they were really getting into with what should have been a one time normal interview. However, one time turned into multiple days, and then a road trip in a truck. Whatever was pulling between them seemed like they were heading in the same lane until the past blinded them and instead of pulling together one turned away. Can they find the same road again or are they forever destined to drive alone?
Ms. Jackson has an amazing family in the Steele's who are connected to her Westmoreland's and it seems that everything that these families are in is just out of the park. This one is no exception. It is part of a series however can completely be read as a stand a lone. This is a little different as it really focuses on Gannon and Delphine and doesn't mention the family as much as some of her other novels. She breathes life into these two almost completely on their own merit. This is one you are going to want to go along on the ride for though. Even if you want to smack Delphine a time or two (while understanding her insecurities).
Book Info:

Publication: Published May 1st 2020 | Harlequin Desire | Forged of Steele #13
This Steele man is always in the driver's seat…
But is this playboy ready for the wildest ride of his life?
Agreeing a PR stunt would be good for business, trucking CEO Gannon Steele invites reporter Delphine Ryland to hitch a ride cross-country. Soon, he's keeping his eyes on his sexy passenger instead of on the destination ahead, and when the trip turns from strictly business to strictly pleasure, the consequences might be more than this rough-and-ready bachelor can handle…