Climbing Fear by Leisl Leighton is the first book in her new series Coal Cliff Stud. This is a romantic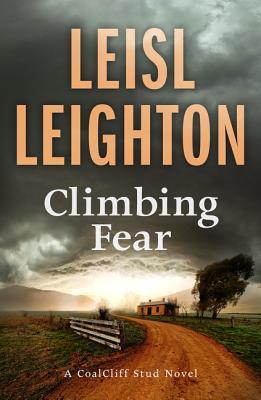 suspense story which is light on suspense and heavy on romance. This works just fine for this story. The author did a great job of hooking me into the story from the very beginning.
X-Treme Sports TV Star Reid Stratton can't get over the death of his best friend Luke who died in a climbing accident. Or was it a suicide? Reid can't sleep, can't climb, is a real mess. He decides to go home to Coal CLiff Stud Horse Farm where his Gran is waiting to give him healing hugs and there's plenty of work to do to keep him busy and not thinking of his loss. Gran hires Natalia Robinson to do PR work for Coal Cliff. Nat is also returning home as she lived at Coal Cliff in her youth. Along with her daughter Tilly, Nat makes the drive to Walhalla and her new job. She needs to escape the memories of bad times with her deceased husband. Nat feels Coal Cliff would be a great place for Tilly to heal from the trama of her father's death plus it's a great place to grow up.
Nat and Reid have a history. Reid fell in love with Nat many years ago. When Nat returned to Coal Cliff to help take care of her dying mother 10 years ago they had a brief affair. Nat ran away back to her ex-fiance and got married to him. Reid ran off and got involved in X-Treme sports and became an international star. Now they meet again. The sparks are real! The attraction is red hot! Now what will happen?
I liked the characters and enjoyed the re-establishment of Nat and Reid's relationship. Eight-year-old Tilly added much interest and fun to the story.I look forward to more stories about the people of Coal Cliff horse farm.
Book Info:

Publication: June 12th 2019 | Escape Publishing | Coalcliff Stud, #1
A Coalcliff Stud novel – His beloved home is under threat, and with it the beautiful, haunted woman he's never been able to forget … X-Treme TV sports star Reid Stratton has everything-until his best friend falls to his death on a climb while shooting their show. In the fierce media fallout, Reid begins to question everything about himself. Crippled by a new fear of climbing, Reid returns to CoalCliff stud, his family's horse farm, to recover.
Single mother Natalia Robinson is determined to start afresh, away from the shadow of her past. A job at CoalCliff Stud where she lived as a child is the perfect opportunity to live the quiet life she always wanted. But she is unprepared to see Reid, and is even more unprepared for the passion that still burns between them.
But after a series of menacing events threaten the new home she is trying to build, Nat realises that Reid is the only person she can rely on to keep her and her daughter safe. Together, Reid and Nat must face the pasts that haunt them if they are to survive the present and forge a future of hope.