In Pregnant with her Best Friend's Baby by Alison Roberts, Maggie and Joe have been really good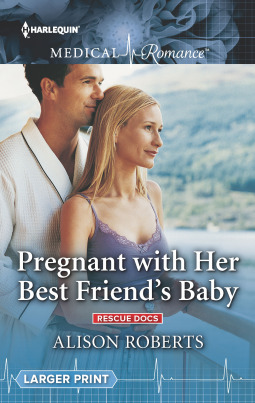 friends and work together quite well. However, when Maggie starts to become clucky and believes her biological clock is close to expiring, she decides it's time to do something about having a child. Yet, things don't go to plan and unexpected consequences are the result. Will she and Joe be able to make things work between them or will they lose their friendship?
"This definitely sounds like a project that needs the attention of the 'dream team'," she added jokingly. "Just let me know where and when."
The house was beautiful. With polished wooden floors, high ceilings with ornate plasterwork and rooms big enough to seem totally indulgent by modern standards, it was a glorious example of an early New Zealand villa. And Maggie had fallen in love with it the moment she'd walked through the heavy, wooden front door with its stained glass panels.
Having loved the first book of this series I couldn't wait to read more about the Aratika Rescue Service and the men and women that work to help people and make sure they get the best medical care and I've got to say that this was another really good read by Ms. Roberta, which tugged at my heartstrings because of the hero's back story that made him feel like he wouldn't be the best parent — if he ever became one — to a child. Will Maggie prove him wrong?
As for the dialogue, it was engaging and fast-paced due to the medical emergencies Maggie and Joe have to handle, the main characters back stories and their growing relationship that had me constantly wondering whether Maggie and Joe would ever achieve their happy ever after. Moreover, the main characters are relatable and likeable and the secondary characters definitely bring that extra little something special to the story, especially Fitz. She was such an enjoyable heroine in the first book and I'm so glad she was in this one.
"We couldn't see it because we were so convinced we were completely wrong for each other."
"Maybe it was there right from the start." Maggie was smiling, too. "I think I fell in 'like' with you that very first day we worked together. When we knocked over that bottle of chilli sauce."
"And I fell in 'lust' with you because talking about making a baby made me see you in a totally different way."
Maggie laughed. "And everybody should know that mixing 'like' and 'lust' is the recipe for falling in love, right? Basic chemistry."
With the heroine, she's strong, brave, loyal, kind, caring and I could understand her desire to become a mother, even if things don't go according to plan for her and things become awkward between her and Joe until he opens up to her about his past and not wanting to disappoint her. I also liked the tight friendship Maggie not only shares with Joe but with her fellow doctors and friends, as there's so much trust between them when they're on the job. While the hero, he's smart, loyal, driven and I loved that he gave a relationship between him and Maggie a chance, even knowing that if things don't work out their friendship might be lost forever. I also liked that he finally was willing to open up to someone about his past and that he was able to overcome it. No way isn't he good enough to be a dad, especially when he's so kind and caring to the young children he treats.
Overall, Ms. Roberts has delivered a really good read in this book where the chemistry between this couple was slow to get started but really took off when they finally move their relationship from platonic to physical; the romance was delightful and had me so happy that these two gave into their chemistry; and the ending had me almost crying happy tears, as Maggie and Joe finally get things right between them. However, it was the epilogue that wrapped this story up nicely, as Maggie and Joe are so right for each other. I would recommend Pregnant with her Best Friend's Baby by Alison Roberts, if you enjoy medical romances, the friends to lovers trope or books by authors Annie O'Neil, Tina Beckett, Amalie Berlin or Amy Ruttan.
Book Info:

Publication: June 1st, 2019 | Harlequin Medical |
From friends with benefits…to parents!
Paramedic dream team Maggie and Joe aren't just crewmates in the Aratika Rescue Service, they're also best friends. Until a particularly perilous, adrenaline-fueled rescue leads to one hot night in the shower! But Maggie discovers their unexpected and intensely passionate encounter had life-changing consequences. Now with a baby on the way, she can't help but wonder, can she and Joe ever be more than just good friends?