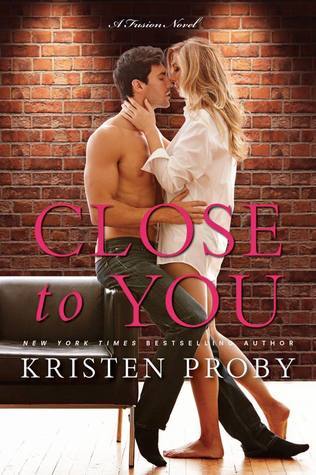 In Close to You (Fusion #2) by Kristen Proby, Cami LaRue should have plenty to keep her occupied these days, as co-owner of Seduction restaurant and as a busy accountant, but all she can focus on is the return of her childhood crush, Navy fighter pilot Landon Palazzo. They were best friends for years until he left for the Navy. But the last decade hasn't diminished her feelings for him in the least. When Landon begins to pay attention to Cami and makes his true feelings known, she thinks her dreams have finally come true. But when their lives are thrown a curve ball, will they have what it takes to stay the course and make a future together?
'…I look down at him to find him grinning wickedly.
I love it when he looks at me like that. Very good things happen when he's in this mood.
Wicked things.
Naughty things.
I can't wait.'
Landon is at a crossroad in his career, unable to pilot for the Navy yet not wanting to work in the family construction business for the rest of his life. But coming home has given him the chance he's been waiting for to pursue gorgeous Cami. He knows that her friendship with his little sister Mia might make things a little awkward at first, but Landon can't deny he's always had strong feelings for Cami. And just like he had hoped, they still have an intense attraction that lights up his world and won't let go. Landon intends to prove that they are meant to be together and that he's ready to settle down in his hometown the woman of his dreams.
"I get lost in you," I whisper, wishing I could see her face, but not wanting to move her.
"Mm," she says. "But it's the kind of lost that's like being found."
I blink, processing her words, and know, in this moment, that there will never be anyone else for me.
Friends-to-lovers romance doesn't get much sweeter than this. Close to You was a quick read by super talented author Kristen Proby that had tons of laughs, some seriously sexy dirty talk, strong friendships, and just a touch of drama.
"I've always been in love with you, Landon."
…He brushes his lips gently over my forehead and pulls me into his arms, hugging me softly. "Same here, sweetheart."
Landon and Cami were one of those couples that you just know are meant to be together. They were both genuine, caring individuals who started off with a terrific friendship that turned into a crush along the way and then grew into even more as they became adults. I loved how Proby brought Cami and Landon back together as friends first, with some realistic awkwardness thrown in. They had spent a little over a decade apart and a lot had changed in their lives. The one thing that never changed, though, was that soul-deep connection between them that made me sigh oh so happily.
I really liked the way the drama and plot twists were handled in this book. There wasn't an overabundance of angst and what issues did creep up were handled relatively quickly. That's not to say that it was light on emotional depth or even true character growth, because it wasn't. It just seemed like there was so much for Landon and Cami, and their friends and family, to celebrate and enjoy. The lighthearted touches that Proby added, like Cami's hilarious conversations with her friends and the arrival of Scoot the cat who adopted her as his human, were perfect and added much warmth to the story–as well as make me giggle.
What took me most by surprise was how romantic Landon turned out to be. He was still all alpha and a sexy Navy fighter pilot of course, but he was so tender and thoughtful with Cami that it made me want to swoon. From the lovely dates he set up for them to the way he handled Cami's emotions, Landon was a passionate, caring guy who was certainly raised right by his mama! I really did love Cami, too. Watching her grow as an individual through everything she encountered and to see how loyal she remained to her family and loved ones was wonderful. She deserved someone like Landon to dote on her and treat her like a princess after how hard she worked to take care of everyone else for so long. *happy sigh*
Kristen Proby absolutely swept me away with the sincere emotions and unbreakable bond Landon and Cami shared. If you're a fan of uber romantic stories powered by great friendships, I think you'll thoroughly enjoy Close to You.
Book Info:

Published August 9th 2016 | by William Morrow Paperbacks | Fusion #2
From New York Times and USA Today bestselling author Kristen Proby comes the second novel in her sizzling Fusion series.
Camilla, "Cami," LaRue was five-years-old when she first fell in love with Landon Palazzo. Everyone told her the puppy love would fade—they clearly never met Landon. When he left after graduation without a backward glance, she was heartbroken. But Cami grew up, moved on, and became part-owner of wildly popular restaurant Seduction. She has everything she could want…or so she thinks.
After spending the last twelve years as a Navy fighter pilot, Landon returns to Portland to take over the family construction business. When he catches a glimpse of little Cami LaRue, he realizes she's not so little any more. He always had a soft spot for his little sister's best friend, but nothing is soft now when he's around the gorgeous restaurateur.
Landon isn't going to pass up the chance to make the girl-next-door his. She's never been one for romance, but he's just the one to change her mind. Will seduction be just the name of her restaurant or will Cami let him get close enough to fulfill all her fantasies?