Colton 911: Detective on Call by Regan Black is the third book in the Harlequin series Colton 911: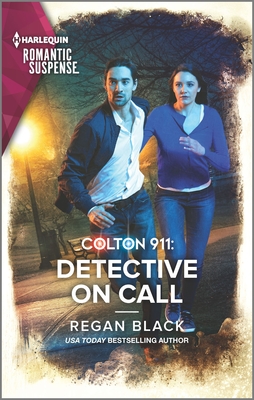 Grand Rapids. This book has a well-thought-out plot with lots of action.
Someone is determined to stop Attorney Pippa Colton from finding evidence that an innocent woman has been convicted of murder.
Pippa Colton, along with her brothers and sisters, runs Colton Investigations. Right now the family is working on a case of a pyramid scheme that has led to a death. It involves an over-the-counter supplement, RevitaYou that is supposed to make the individual taking the supplement look ten years younger. It has been discovered that there is the poison ricin in the mixture of the supplement that affects people differently. Some are fine, others become ill and there's been the one death. In addition to this Pippa, who is an attorney, is looking into a case for her friend Elizabeth Wentworth. Her mother Anna Wentworth, commonly referred to as the Queen of Mean, is in prison having been convicted of killing her ex-lover.
Pippa has known Anna for many years and doesn't believe she is a killer so Pippa is determined to find the real killer. Detective Emmanuel Iglesias has been tasked by Pippa's brother Griffin to keep an eye on Pippa. As it turns out Pippa finds herself in danger as she presses her investigation into the murder. Emmanuel has his hands full keeping her safe.
I enjoyed reading about Pippa and Emmanuel interacting with each other from animosity from Pippa at the beginning to falling in love by the end. It was great to see the family in action on the RevitaYou case. This is the overall arc of this series, finding the people responsible for the deadly formula as well as those responsible for the pyramid scheme. This story arc was advanced quite well in this book. I look forward to finding out more in the next book in the series which features Pippa's twin sister Kiely and FBI Agent Cooper Winston in Colton 911: Agent by Her Side written by Deborah Fletcher Mello.
Book Info:

Publication: September 1st 2020 | Harlequin Romantic Suspense | Colton 911: Grand Rapids #3
Two bitter rivals unite to track a deadly killer
Detective Emmanuel Iglesias does his duty at all costs, even if that means going up against Pippa Colton. The stubborn attorney insists her client is innocent, but Emmanuel knows that his case is rock-solid. That is, until Pippa becomes a target herself. Is the real killer still at large? As their mutual distrust turns into an undeniable attraction, the murderer becomes bolder—and more menacing…
USA TODAY BESTSELLING AUTHOR