The Wreckage of Us by Brittainy C. Cherry: If you believe that everything worth loving is worth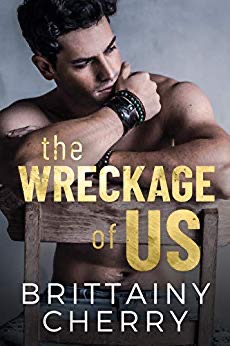 saving, then put your sympathy jacket on and enjoy this Mid-Western American Drama Romance despite the inherent storms to weather from. When the adults in Hazel's life have completely failed her, she does the only sensible thing in small town Eres Nebraska, and asks Big Paw, local powerhouse, for a job on his ranch. When challenged that she would be better suited to his restaurant, Hazel holds firm to the ranch- hand position, with little knowledge of the trials Big Paws Grandson Ian is about to rain down on her.
After a pretty awkward and sexually compromising introduction, Ian does his best to destroy Hazel on her first day as manager, without realizing the two are connected in ways they can't possibly comprehend. Ian, initially painted as a soulless cad, seeks a little joy in knowing that the laborious tasks he has set for Hazel's orientation, will have her running back to whatever meth-house gutter she has crawled out of. However, as expected, she not only exceeds his expectations but proves him ultimately wrong in his assumptions and estimations of her. For the girl is simply determined to the core. With her classic emo looks, it's little wonder she holds a heart bigger than the Gods themselves, and Ian is challenged by Big Paw, when he discovers she's squatting on the property, to take her in, befriend her and lighten up on her torturous workload.
Naturally, children who have have been failed so magnificently by the adults in their lives and who have have learned the language of abandonment by those that are supposed to be there forever, will find true kinship in each another; a sanctuary to be safe and heard. But of course, all great love stories are not without their complications, and The Wreckage of us, has it in spades.
Both central characters were created with care and developed with a good understanding of how 'lucky in love' works, particularly in terms of the hands we are dealt via our parentage. Hazel's mother is pregnant, an abuse victim, a meth addict, and yet, as all children seem to, is still adored and invariably worth saving from Hazel's perspective. Hazel holds on to her happy childhood memories like gifts, her character is drawn from the depths of gratitude and humility and perhaps grace itself; her understanding of generosity, wealth, laughter run deep as she has had very few moments in life where she has experienced them. Ian, also in the throws of abandonment, is slightly more indulged, given he was raised by his Grandparents Big Paw and Gran Holly, in the absence of his parents who chose Meth over their son. Certainly not a new story, and sadly, is one we probably will here more and more of if we haven't already.
Quite thankfully, there were very few ,if any ,preachy moments about drugs or drug taking throughout, only ugly reminders of the destruction that is left behind when a parent or parents become addicts. Ian, who is emotionally bereft and shut off to the world finds solace in Hazel's raw honesty and her capacity to love despite the damage, and who is therefore empowered to find the pathway to his musical dreams. Sadly, the pretentiousness in the music industry, his background, Hazel's diabolical situation, all create complex action kernels that keep the narrative ebbing and flowing so that it is impossible our two heroes will ever find a happy ever after.
Undoubtedly, this is a simple yet complex read that would adapt to a visual medium beautifully. Current, innocent, devastating, this is one that will leave you contemplating resilience and whether meritocracy and true love are even things that exists in our world anymore. Summarily, everything we love is worth saving and if you hunker down in the storm long enough, you'll find the Wreckage of Us is a storm worth weathering.
Book Info:

Publication: 8th September 2020 | Montlake |
I know I should stay away from Ian Parker.
But when my drug-dealing stepdad kicks me out, I have nowhere to go. Squatting in an abandoned shed on Ian's grandpa's farm seems like as good a plan as any.
Ian finds me there, of course, and he insists on me moving into his spare room. I should say no, but the appeal of a roof and a warm bed is too much. Not to mention Ian's brown eyes and strong arms.
We're nothing alike, but the spark between us is undeniable. My life is finally looking up.
Until I call the cops on my stepdad and unintentionally get my pregnant mom arrested.
Now I have to sacrifice my dreams to take care of my mom's baby. She's the only family I have left. Meanwhile, Ian's band is taking off; his dreams are coming true.
Ian is my one chance at love. I just hope he doesn't become the one chance that got away.