Colton's Lethal Reunion by Tara Taylor Quinn is the second book in the Colton's of Mustang Valley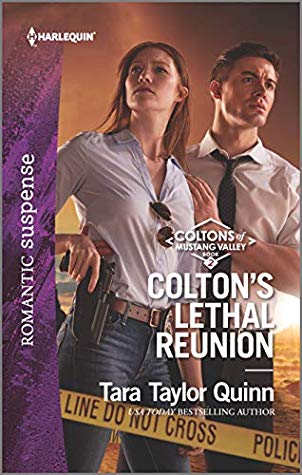 series, each written by a different author. I haven't read the first book, and I'll admit I felt I was missing information regarding the shooting of Rafe's father, as well as the revelation that their oldest brother was switched at birth, both of which happened in the first book. I definitely recommend reading this series in order.
Rafe Colton and Kerry Wilder had close when they were kids, even believing they were in love, until Rafe's adoptive father, Payne, had forbidden him from hanging out with the "help". Now Kerry is leading the investigation into Payne's shooting. Rafe believes this is the perfect time to finally apologize for what happened when they were children, but Kerry isn't going to make it easy for him.
When Rafe discovers Kerry is also looking into the death of her brother, which had been ruled an accident, he refuses to let her do it alone. It soon becomes clear that the death wasn't an accident and someone wants them off the case, even if it means taking their lives.
Kerry has her suspicions who was responsible for the death of her brother; she just needed proof. It, therefore, was never really much of a mystery who the killer was, but I enjoyed the journey to find out the why of it. There is plenty of suspense as there are multiple threats and attempts on their lives.
I found it hard to believe it took over twenty years for Rafe to finally work up the nerve to apologize to Kerry. I understood he felt he owed Payne for taking him in after his own father died and that he couldn't stand up to him when he was a child, but once he became an adult, he should have been able to take a stand. Even with Payne is a coma, Rafe is still afraid of how he's going to take the news of him being in a relationship with Kerry. It made him come across as a bit of a pushover when it came to his father, and I lost a little respect for him because of it.
I liked Kerry; she's very determined to get to the bottom of her brother's death. Even when others ruled it an accident, she can't help but feel it wasn't. She wasn't afraid to let her opinions be known and wasn't afraid to throw herself into danger to uncover the truth and bring the person responsible to justice. The one issue I had was that her determination to find the truth about her brother's death put Payne's shooting on the side burner. Her main case was Payne's shooting, yet it felt like she barely devoted any time to it, and there was very little progress made with the case. Instead, her focus was on her brother, when that case had been assigned to someone else.
I was left with questions. Who leaked that Ace was switched at birth? Who shot Payne? Neither of these was resolved and, I suspect, will carry over to the next book.
Despite my issues with Rafe and feeling like I was missing some of the backstory, I still enjoyed Colton's Lethal Reunion. With plenty of suspense and a second chance romance, fans of both will enjoy this book.
Book Info:

Publication: January 1, 2020 | Harlequin Romantic Suspense | Colton's of Mustang Valley #2
Rafe Colton and Kerry Wilder were inseparable as kids—until Rafe cut Kerry out of his life without explanation. Now a detective, Kerry unexpectedly crosses paths with Rafe again while investigating a deadly shooting. When Rafe discovers she's also investigating a cold case that puts her in harm's way, he vows to work overtime to protect her. But can Rafe redeem his betrayal…and keep her safe?