Colton's Secret Sabotage by Deborah Fletcher Mello is the seventh book in the Coltons of Colorado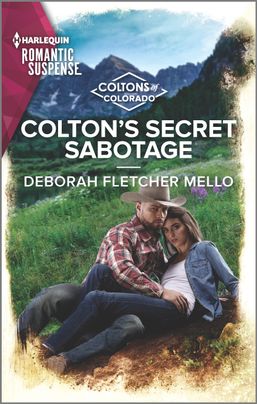 series. Each book is written by a different author, and I thought it worked well as a standalone. I've only read one other book in the series; while characters from that book did make appearances in this one, readers won't feel like they're missing anything if they choose to jump into the series with this book.
Naomi Colton is determined to make it big as a producer. Her first shot is at producing a reality series called In the Saddle. In it, contestants take part in challenges on the ranch owned by two of her siblings, twins Jasper and Aubrey. Detective Philip Rees is to go undercover as a handyman on the show, helping to build the stages and take them down, as one of the contestants is believed to be selling confidential information. He quickly finds himself becoming a contestant, after an accident takes out one of the contestants before filming could even begin.
As the sparks begin to fly between the pair, more accidents start to happen around the ranch. As it becomes clear that someone is out to sabotage both Naomi and the show, Philip needs to come clean with Naomi so he can protect her. Will the pair be able to get to the bottom of everything before it's too late?
I found the romance to be too much like insta-love to me, which isn't my thing. The pair isn't together long before they're professing their love, which made it hard for me to really buy into their relationship. They didn't really know anything about each other. I liked both characters individually, but as a couple I think their relationship needed to be drawn out a little more.
Where the book really shines is with the suspense. There are two things going on: the contestant that was selling secrets, and the sabotage of the show. I thought the author did an excellent job of making it so that one didn't overshadow the other. It wasn't too hard to figure out who was behind the things happening at the ranch, but I enjoyed the journey the author takes readers on as the person is eventually revealed. As for the storyline involving the selling of secrets, there was an unexpected twist that readers won't see coming. It was a surprise and I liked how the author threw that in.
Colton's Secret Sabotage is engaging and will keep the attention of the readers from beginning to end. While I was a little disappointed in the romance, the suspense more than makes up for it. I'm looking forward to seeing what happens next in the series. This book is recommended for readers who enjoy romantic suspense.
Book Info:

Publication: July 26, 2022 | Harlequin Romantic Suspense | Coltons of Colorado #7
Detective Philip Rees is shocked by his new assignment: going undercover on a Western-themed reality TV show. Nonetheless, he's determined to complete his mission to take down a contestant suspected of leaking confidential information. To find the culprit who is sabotaging the competition, Philip gets close to producer Naomi Colton. As Philip and Naomi begin to trust one another with their secrets and hearts, will he manage to keep her safe, on and off the set?