Complete Me is book 3 in J. Kenner's Stark Trilogy. At this point, you really should have read Release Me and Claim Me (books 1 & 2 in the series). I mean, this is a great erotic romance series. If you want to see how Fifty Shades of Grey could have been better, try these. Actually, I think this series could easily be placed at the top of the "Billionaire, BDSM Trilogy" club with Sylvia Day's Crossfire Series. On the other hand, I have to be honest… in my brain, I'm starting to get them mixed up (when I'm not actively reading one of them). I mean, they both have amazing writing, the Sexy Time is hot and plentiful, and the heroes irresistible. But we're talking about Complete Me here so let's get to it!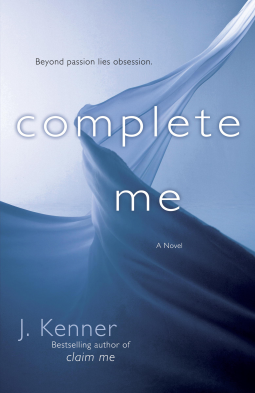 Let's start with Nikki. I'm sorry to say but I'm SO disappointed in Nikki. I was really hoping that she would show a little more growth in this final book. But she's still struggling to combat those cutting tendencies. On the other hand, something that I loved about Nikki, I felt like she was becoming a teensy bit more self confident and assertive. I really enjoyed the fact that she was very secure in her relationship with Damien. What I mean is that she knows how much he cares for her, needs her, maybe even loves her? So often, heroines are so unsure of their place in a man's life and that's totally ok because that's how most people are; that's how life is. So the fact that Nikki and Damien are a relatively new couple and she knows exactly who she is to him is amazing to me. I felt so empowered by how she knew the sexual power she had over Damien and she knew he was hers, just as she was his. So there were fun, awesome things about Nikki and there were irritating things about Nikki. I won't even get into the fact that she's this intelligent, responsible woman in the tech world and yet she manages to NOT charge her cell phone half the time…
Now Damien is as delicious as he's always been! Damn, that man is hot and seriously damaged. Like, for REAL! We finally find out all of Damien's deep, dark secrets and holy shit, it's effed up. If you don't cry for Damien's lost childhood, I swear you have no soul! LOL! But don't worry! Damien is still Damien and he doesn't make it easy on anyone!! I think that Damien, for sure, grows a lot in this book. What I was hoping for in Nikki, I found in Damien. He's still the ultimate control freak. He's still the same guy that took the world by storm through tennis and then in business after that. But Nikki softens him a little bit more each time we see them and it does him a world of good. I think I can maybe even say that Damien is becoming more and more happy the more he shares himself with Nikki. And of course, we're rooting for that. We're rooting for Damien to open up to Nikki because when he does, he's not only healing himself but he's healing Nikki too.
As always, together, Nikki and Damien are SUPER hot. But it was almost too much in this one. Don't get me wrong, I love nasty, dirty, freaky sex just as much as any other gal. But I'm so into these characters that I was just wanting to get to the bottom of ALL of it: Damien's trial in Germany, the identity of the person leaking information to the news and tabloids, the real story behind Damien's hatred of his old tennis coach, the identity of Nikki's stalker… So much is going on that I was on friggin' pins and needles the whole time!! And the author does NOT give you one moment to relax!! As soon as one mystery is solved, she reminds you of something else! And so much of it is heartbreaking… Don't worry. You don't get the whole, full, complete, total story until just about the very end. Yeah, the author is THAT devious! LOL! I'm getting off topic here though. We're talking about Nikki and Damien and their freaky, plentiful sex. Holy cow! I think they go a little further into BDSM but not so far that anyone would be turned off or anything. And the quantity of sex is, like, whoa. Now, it may just be my perception because I wanted the rest of the story to continue on but to me, it seemed like quite a bit of Sexy Time.
Overall, you MUST read this book. Period. I know, I only gave this 4 stars but its only because I had such extremely high expectations. And they only real place that it fell short of those expectations is in the lack of growth on Nikki's part and you may even disagree with me. Maybe you'll see growth in her that I didn't see. Who knows? But you HAVE to have read the first two books before you tackle this one. Trust me, I promise, you'll enjoy all of them. The characters are going to get into your head and into your heart and you'll be glad that you gave this book, and the entire series, a shot.
Book Info
Publisher: Bantam (July 30, 2013)
Our desire runs deep. But our secrets cut close.
Beautiful, strong, and commanding, Damien Stark fills a void in me that no other man can touch. His fierce cravings push me beyond the brink of bliss—and unleash a wild passion that utterly consumes us both.
Yet beneath his need for dominance, he carries the wounds of a painful past. Haunted by a legacy of dark secrets and broken trust, he seeks release in our shared ecstasy, the  heat between us burning stronger each day.
Our attraction is undeniable, our obsession inevitable. Yet not even Damien can run from his ghosts, or shield us from the dangers yet to come.