Contracted as His Countess by Louise Allen is a stand-alone historical romance written by Louise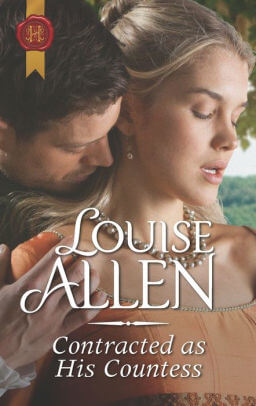 Allen. This author was new to me, but I am glad I had a chance to read one of her books. It was well written, paced perfectly, and had an interesting storyline and characters. It has one of my favorite tropes, a marriage of convenience turned into love. The author did a wonderful job with the historical facts and descriptions of the surroundings.
Madelyn Aylmer's father was known as an eccentric man. Peregrine Aylmer had created a fantasy medieval castle, Castle Beaupierre. Madelyn had lived as a recluse in the castle and only knew that way of life. She had no social skills, no knowledge of current fashion or manners. Her father had wanted Madelyn to marry a nobleman of ancient lineage and Jack Ransome fit in that category. He purchased every Dersington estate as an incentive for Jack to agree to a marriage. When Peregrine passed away Madelyn wanted to follow his wishes and so she proposed a marriage of convenience to Jack. He would get all the Dersington estates back and she would gain a husband and children.
Jack Ransome had inherited the title of Earl of Dersington, but his father and brother had sold all the estates leaving him with no money or land. He peers had no respect for him and mocked him, so he refused to use the title. He chose to make his own place in the world by being an enquiry agent. He was shocked to learn about the estates but agreed to the marriage as long as Madelyn moved to London and learned to live in his "modern" world.
Madelyn worked hard to learn all she needed to know when she arrived in London. Jack's idea was to introduce Madelyn to society and slowly integrate himself back into the ton before they announced their engagement. He was determined that they fit in, appear normal, and be accepted by society. Madelyn tried to fit in but realized she didn't want to completely change who she was and so she had to find a compromise. Can they make their marriage work when they have nothing in common?
Book Info:

Publication: December 1st 2019 | Harlequin Historical |
From a recluse secluded in a castle…
…to his countess!
Cloistered away in a castle since birth, Madelyn Aylmer must now fulfill her eccentric father's dying request: wed nobleman Jack Ransome! She has what Jack needs—land—and so he accepts their marriage of convenience and vows to introduce this sheltered innocent to society. But what Madelyn hadn't expected was the way her body reacts to Jack, especially to his promise of a union filled with unbridled passion!