Forever My Duke is the second book in Olivia Drake's the Unlikely Duchesses series.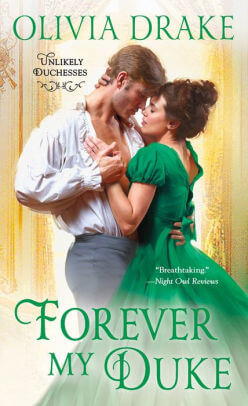 Hadrian Ames, the Duke of Clayton, was traveling to the home of his potential bride when an ice storm hit and stranded him at an inn. His father and Lord Godwin, his uncle, had arranged a betrothal to his second cousin, Lady Audrey, when they were young. The agreement had been broken when Lady Audrey eloped with a preacher. Since he had no romantic ideas of marriage, he was willing to meet and possibly marry his younger cousin, Lady Ellen, who was ten years younger than him.
Natalie Fanshawe's best friend, Audrey, had died and Natalie had promised to take her son, Leo, to Audrey's family in England. On the way to Lord Godwin's estate, who was Leo's grandfather, they got stranded due to the ice storm. Leo was a mischievous child and seemed to wander off a lot, which is how they meet Hadrian.
Hadrian was intrigued by Natalie and her American egalitarian views. When she missed the mail coach, he offers to let them travel with him. Hadrian realized that Godwin would not be happy to acknowledge Leo after he had disowned Audrey for eloping.
Audrey's family suspected Natalie of scheming to get money, so Hadrian took them to London with him. Hadrian came to realize he didn't want to marry Lady Ellen, he wanted more than just a beautiful wife. He wanted someone who he could talk with and had spirit. All he must do is convince Natalie to give up her dream of opening a school in America, change her views of the aristocracy, and marry him.
This book grabbed my attention at the beginning and held it all the way to the end. It was well written and paced. The characters were well developed and interesting.
Book Info:

Publication: December 31st 2019 | St. Martin's Paperbacks | Unlikely Duchesses #2
"I find Miss Fanshawe to be quite charming—for an American."—The Prince Regent
Hadrian Ames, the Duke of Clayton, needs a bride. He even has the perfect one picked out. That is, until he meets the lovely, free-spirited Natalie Fanshawe. She's the opposite of what a man of his high rank should desire in a wife—an outspoken American who has never even set foot in a London ballroom.
But Natalie doesn't have time to be swept off her feet by a handsome duke who must be a spoiled scoundrel like every other British lord. And she couldn't care less about Hadrian's title. After all, it's not as if he actually worked to attain his wealth and status. He surely can't understand what it's like to be a busy woman, planning to open a school while trying to reunite a six-year-old orphan with his English relatives. Nevertheless, Hadrian launches his campaign to win her heart. Can the utterly delightful American beauty ever find a way to love him…despite his being a duke?