My Cowboy Heart by Z. A. Maxfield introduces us to Malloy. He came to the Jenkin's ranch as a foster child, has grown up there, considers them his family, and now is ranch foreman. He's happy in his own private, quiet way. At least he thinks he is until Crispin shows up and forces Malloy to face who he really is and what's been lacking in his life. Crispin has relocated to the area to be close to family, and has been hired on at the ranch.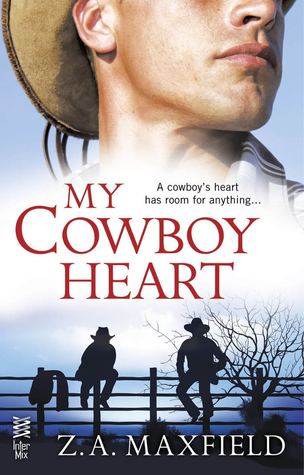 Crispin seems to be everything Malloy is not. He outgoing, very talkative, and very openly gay. When Crispin first arrives on the ranch, it is just as the Jenkin's are going on holiday, so Mr. Jenkin's has asked Malloy to watch out for Crispin. Little does Malloy expect to be attracted to Crispin! It's nothing he's really thought about before. He's been with women before…yeah, it's never really been that exciting or emotional, but wasn't that just the way it was? The more time Malloy spends with Crispin though, the more he likes to be with him and wants to be with him. The attraction is very mutual, and understandably Malloy is somewhat confused. He's not fighting what he feels, it's just so unexpected. He's always strived to be like Mr. Jenkin's, and to hopefully have what he has one day.
As Malloy and Crispin find their way together, the relationship is full of ups and downs. They are fairly isolated on the ranch with the other ranch hands, Eddie and Jim. Jim is full of talk and innuendos, but soon finds out that's not acceptable. Eddie seems to want to look out for Crispin, he's more caring than Jim is! At the beginning of a relationship it is nice they don't have to deal with a lot of outsider influence, expectations and judgement. Malloy's feelings towards Crispin continue to deepen, and Crispin takes him places he never thought he'd go both emotionally and physically. Now can't believe what he's been missing. Crispin's immaturity and younger age show- he's hot and cold with Malloy, which is frustrating for both Malloy and the reader! Will this be a brief relationship, or will Malloy and Crispin make it work? Do they belong together? When the even more unexpected happens and the future as Malloy envisioned it is now unknown, will it pull them apart or closer together?
Z.A. Maxfield gives us some interesting characters in My Cowboy Heart. Malloy is very driven by his work and doing the right thing for the Jenkin's, sometimes Crispin feels that this all comes before everything else. And for a while it really does, because Malloy really knows no other way. Malloy comes across as way older than the age we are told he is (early 30's). The dialogue between him and the other people in My Cowboy Heart is at times rough, and it is not until later in My Cowboy Heart that we are surprised to learn Malloy actually has a university degree. Even with that information, Malloy does not come across as a well educated man until well into My Cowboy Heart. Despite the huge changes in Malloy's life, I feel he does handle things very well though. He has risen above a childhood that left him in foster care, and is always striving for better. I really liked him, I found him to be open, honest, and caring. Inside that big cowboy is a heart of gold. Crispin was hard to like because of the way he sometimes treated Malloy and their relationship. He was very on and off, wanted it, didn't think it was a good idea, etc. As I mentioned, the maturity levels between Malloy and Crispin were very noticeable! Sometimes Crispin seemed more like a teenager blasting his way through.
Overall I found My Cowboy Heart to be an ok read about two people finding their way together, one of them discovering a whole new way of being that he didn't know he would be, but knows it's who he is. No matter what your sexual orientation, any romance reader can relate to the journey of the relationship. Z.A. Maxfield will take you on an emotional journey encompassing not just the relationship between Crispin and Malloy, but the relationship of those around them.
Any romance reader who enjoys the journey and doesn't mind explicit m/m sex scenes will enjoy My Cowboy Heart.
Book Info:

Published August 20th 2013 by Intermix
A cowboy's heart has room for anything…
J-Bar ranch foreman Malloy pretty much keeps to himself—slinking around the edges of everybody else like an old coyote, doing his job and staying private. That is until Crispin Carrasco shows up.
Lean, muscular, and with a motor mouth that won't quit, Crispin sparks something in Malloy—something the foreman didn't know was there. But how does a lone coyote approach the warmth of a fire? And more important, what would happen if that fire burned?